Correspondence.
12th November 1908
Page 16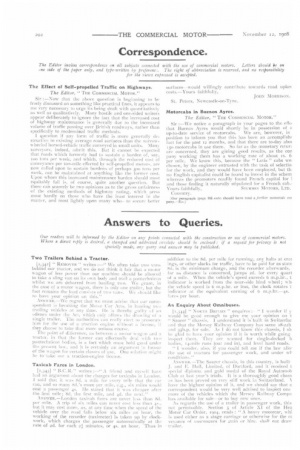 Page 16, 12th November 1908 —
Correspondence.
Close
The Effect of Self-propelled Traffic on Highways.
The Editor, " THE COMMERCIAL MOTOR."
Sir :—Now that the above question is beginning to he freely discussed on something like practical lines, it appears to me very necessaryto urge its being dealt with quantitatively as well as qualitatively. Many hostile and one-sided writers appear deliberately to ignore the fact that the increased cost of highway maintenance is generally due to the increased volume of traffic passing over British roadways, rather than specifically to modernised traffic methods.
question if any form of traffic is more generally destructive to existing average road surfaces than the narrowwheeled horsed-vehicle traffic conveyed in small units. Many surveyors, indeed, admit this. But it cannot be expected that roads which formerly had to sustain a burden of, say, too tons per week, anti which, through the reduced cost of conveyance per ton-mile effected by self-propelled motors, are now called upon to sustain burdens of perhaps 5oo tons per week, can be maintained at anything like the former cost. Upon whom this increased maintenance burden should most equitably fall is. of course, quite another question. But there can scarcely be two opinions as to the gross unfairness of the existing methods of highway rating, which press most hardly on those who have the least interest in the matter, and most lightly upon many who.to secure better surfaces—would willingly contribute towards road upkee costs.—Yours faithfully,
JOHN MORRISON.
St. Peters, Newcastle-on-Tyne.
Motorcabs in Buenos Ayres.
The Editor, " THE 'COMMERCIAL MOTOR."
Sir :—We notice a paragraph in your pages to the effe, that Buenos Ayres would shortly be in possession of a up-to-date service of motorcabs. We are, however, in position to inform you that this has been an accomplish( filet for the past 12 months, and that there are to-day abot 1,50 motorcabs in use there. So far as the monetary retort are concerned, they are giving good results, as the con party working them has a working rate of about is. 61 per mile. We know this, because the " Lotis " cabs wet chosen, by the engineer entrusted with the task of selectiot for the work, and they would have been employed, but th; no English capitalist could be found to invest in the schem whereas the promoters readily found French capital for i and those finding it naturally stipulated for a French cab.Yours faithfully, STURMFX MOTORS, LTD.
Coventry.
Our paragraph (Page 156 Wile) Ehould hare read a further moi,orcab cot pany.—Eu.1