Out and Home.—By "The Extractor.'' Mr. F. U. Bradbury, formerly
12th November 1908
Page 13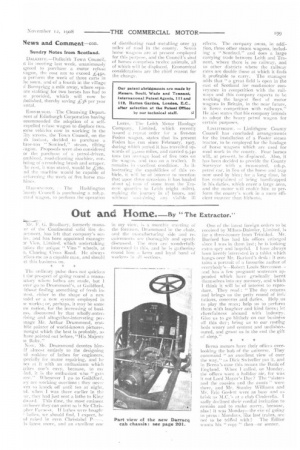 Page 13, 12th November 1908 —
Out and Home.—By "The Extractor.'' Mr. F. U. Bradbury, formerly
Close
manner 1)1 the Continental solid tire deartment, has left that company's serice, and has been appointed manager Dr Vico, Limited, which undertaking -takes the unique " Vier)" wheels, at o, Charing Cross Road. He always :rikes me as a capable man, and should .et this business on.
The inatinary pulse doee not quicken L the preselect of going round a mannictory where lathes are made, but 1 over go to DrnnunOnd's, at GuildfOrd, -ithont finding something of fresh in;rest, either in the shape of a new lode] or a new system employed in works ; iii-, perhaps, it may he some ow notion, fur the increasing of busiess, discovered by that wholly-enterrising and altogether-interesting permage Mr. Arthur Drummond, ersipainter of world-known pictures. mongst which the best is probably, as have pointed out before, "His Majesty le Baby."
Now, Mr. Drummond devotes him!If almost entirely to the designing id makiree of lathes for engineers, ;pecially for motor repairing, and he oes at it with an enthusiasm which (cites one's envy, because, to my iind, itis the enthusiast who " gels !ere." Whenever I go to Guildford, Ley are working, overtime : they neve: pm to kaock off until ten at night, id, when I was there earlier in the erne they had just sent a lathe to Kim! dwarf. This time, the most eminent trehneer they can paint to is Sir Chrisher FL] rm55. If lathes were houghladies, we should fied. I expect, he el raked in even Christabel is latest move, and an excellent -inc in my -.eye:, is a monthly the fore it-n, Drummond in the chair, and tlie manufacturing side and reemit-ea-mils are thoroughly and openly discussed. The men ;ire WOI1C1f:rfully interested in lids, and he is gathering round him a keel] and loyal barn] of workers in nfl sections. One of the latest foreign orders to be received by Mines-Daimler, Limited, is for a three-tonner from Trinidad. Mr. Burford has had his offices onlarged since I was in them last ; he is looking extra spry and hopeful. I have always been keenly iniereeted in a tablet which hangs over Mr. Burford's desk : it contains a portrait of a favourite author of everybody's—Robert Louis Stevensonand has a few pregnant sentences appended which have gradually burnt themselves into my memory, and which I think it will be of interest to reproduce. They read : " The day returns. and brings us the petty round of irri-. tations, concerns and duties. Help us to play the 111M1 ; help us to perform them with laughter and kind faces; let cheerfulness abound with industry. Give us to go blithely on our business all this day; bring us to our restilig beds weary and content and undishOnoured, and grant us in the -end the gift of sleep."
Berna motors have their offices overlooking the hub of the universe. They command " an excellent view of over the way," as Dick Swiveller put it, and in Berna's case this means the Bank of England. When I called, on Monday, the offices V, ore a holiday air, for was it not Lord Mayor's Day? The "sisters and the cousins and the aunts " were there, and Mr. Stanley Williams and Mr. Erie Gosleit were as busy and as brisk as MC." s at a Club Cinderella. I sadly declined their cordial invitation to remain and to make merry, because, alas ! it was Monday—the eve of going U) press: Mondays, like last trains, are
not to be trifled with!The Editor ■ \eints his " ropy " then—or sooner.