SECO )HAND N WS
12th August 1993
Page 34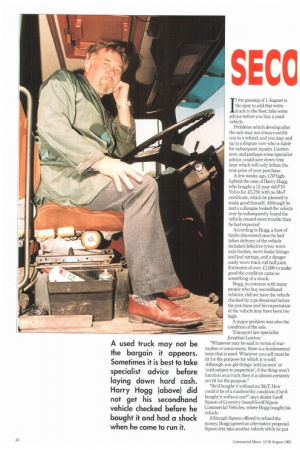 Page 35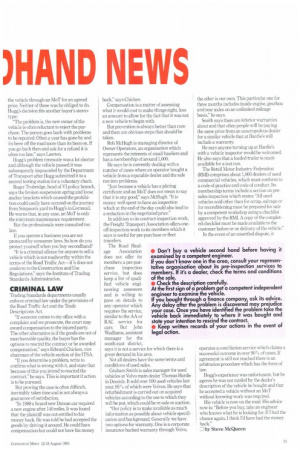 Page 34, 12th August 1993 —
SECO )HAND N WS
Close
If the passing of 1 August is the spur to add that extra truck to the fleet, take some advice before you buy a used vehicle.
Problems which develop after the sale may not always entitle you to a refund, and you may end up in a dispute over who is liable for subsequent repairs. Caution now, and perhaps some specialist advice, could save down time later which will only inflate the true price of your purchase.
A few weeks ago, CMhighlighted the case of Harry Hogg, who bought a 12 year old F10 Volvo for £5,750 with no MoT certificate, which he planned to make good himself. Although he and a colleague looked the vehicle over he subsequently found the vehicle caused more trouble than he had expected.
According to Hogg, a host of faults discovered once he had taken delivery of the vehicle included defective tyres, worn axle bushes, worn brake linings and leaf springs, and a dangerously worn track rod ball joint. Estimates of over £1,000 to make good the condition came as something of a shock.
Hogg, in common with many people who buy secondhand vehicles, did not have the vehicle checked by a professional before the purchase and his expectation of the vehicle may have been too high.
A major problem was also the condition of the sale.
Transport law specialist Jonathan Lawton: "Whatever may be said in terms of war ranties or assurances, there is a fundamental term that is used. Whatever you sell must be fit for the purpose for which it is sold. Although you get things 'sold as seen' or 'sold subject to inspection', if the thing won't function as a truck then it is almost certainly not fit for the purpose."
"He'd bought it without an MoT. How • could it be of a roadworthy condition if he'd bought it without one?" says dealer Geoff Sipson of Coventry-based Geoff Sipson Commercial Vehicles, where Hogg bought his vehicle.
Although Sipson offered to refund the money, Hogg agreed an alternative proposal. Sipson lent him another vehicle while he put the vehicle through an MOT for an agreed price. Neither of these was he obliged to do. Hogg's decision fits another buyer's stereotype: "The problem is, the new owner of the vehicle is often reluctant to reject the purchase. The person goes back with problems to be repaired. Often a year has gone by and its been off the road more than its been on. If you go back then and ask for a refund it is often too late," says Lawton.
Hogg's problem timescale was a lot shorter and although the vehicle passed it was subsequently impounded by the Department of Transport after Hogg submitted it to a second testing station for a voluntary check.
Roger Trubridge, head of VI policy branch, says the broken suspension spring and loose anchor brackets which caused the prohibition could easily have occured on the journey from Simpson's yard to Hogg's in Cornwall. He warns that, in any case, an MoT is only the minimum maintenance requirement.
But the professionals were consulted too late.
If you operate a business you are not protected by consumer laws. So how do you protect yourself when you buy secondhand?
"It is a criminal offence for anyone to sell a vehicle which is not roadworthy within the terms of the Road Traffic Act—if it does not conform to the Construction and Use Regulations," says the Institute of Trading Standards Administration.
CRIMINAL LAW
Trading Standards departments usually enforce criminal law under the provisions of the Road Traffic Act and the Trade Descriptions Act.
"If someone comes to my office with a complaint and we prosecute, the court may award compensation to the injured party The other alternative is if the goods are not of merchantable quality, the buyer has the options to rescind the contract or be awarded compensation," says Edward Chicken, vice chairman of the vehicle section of the rrsA.
"If you determine a problem, write to confirm what is wrong with it, and state that because of this you intend to rescind the contract," he says. This is important if action is to be pursued.
But proving the case is often difficult, inevitably takes time and is not always a guarantee of satisfaction.
in 1988 a brand new Datsun car required a new engine after 140 miles. It was found that the plaintiff was not entitled to his money back. He was told he had accepted the goods by driving it around. He could have compensation but could not have his money
back," says Chicken.
Compensation is a matter of assessing what it would cost to make things right, less an amount to allow for the fact that it was not a new vehicle to begin with.
But prevention is always better than cure and there are obvious steps that should be taken.
Rob McHugh is managing director of Owner Operators, an organisation which represents the interests of small hauliers and has a membership of around 1,000.
He says he is currently dealing with a number of cases where an operator bought a vehicle from a reputable dealer and the sale ran into problems.
"Just because a vehicle has a plating certificate and an MoT does not mean to say that it is any good," says McHugh. "It is money well spent to have an inspection which at the end of the day could also lead to a reduction in the negotiated price."
In addition to its contract inspection work, the Freight Transport Association offers oneoff inspection work to its members which it says is useful for pre-purchase or fleet transfers.
The Road Haulage Association does not offer its members a pre-purchase inspection service, but does keep a list of qualified vehicle engi neering assessors and is willing to pass on details to any operator which requires the service, similar to the AA or RAC service for cars. But John Wadhams, assistant manager for the south-east district, says it is not a service for which there is a great demand in his area.
Not all dealers have the same terms and conditions of used sales.
Graham Smith is sales manager for used vehicles at Volvo main dealer Thomas Hardie in Deeside. It sold over 100 used vehicles last year, 95°0 of which were Volvos. He says that refurbishment is carried out on acquired vehicles according to the use to which they will be put, which could be re-sale or auction.
"Our policy is to make available as much information as possible about vehicle specification and background. Generally we have two options for warranty. One is a corporate insurance backed warranty through Volvo, the other is our own. This particular one for three months includes inside engine, gearbox and rear axles on an unlimited mileage basis," he says.
Smith says there are inferior warranties about and that often people will be paying the same price from an unscrupulous dealer for a similar vehicle that at Hardie's will include a warranty He says anyone turning up at Hardie's with a vehicle inspector would be welcomed. He also says that a loaded trailer is made available for a test run.
The Retail Motor Industry Federation (RIC) comprises about 1,000 dealers of used commercial vehicles, which must conform to a code of practice and code of conduct. Its membership terms include a section on presales inspection which states: "All used vehicles sold other than for scrap, salvage or for reconditioning must be prepared for sale by a competent workshop using a checklist approved by the RM1. A copy of the completed checklist must be made available to the customer before or on delivery of the vehicle."
In the event of an unsettled dispute, it
operates a conciliation service which claims a successful outcome in over 90° o of cases. If agreement is still not reached there is an arbitration procedure which has the force of law Hogg's experience was unfortunate, but he agrees he was not misled by the dealer's description of the vehicle he bought and that he accepted a vehicle without an MoT without knowing work was required.
His vehicle is now on the road. His advice now is: "Before you buy, take an engineer who knows what he is looking for. If I had the chance again, I think I'd have had the money back" by Steve McQueen