Elite entry
12th August 1993
Page 32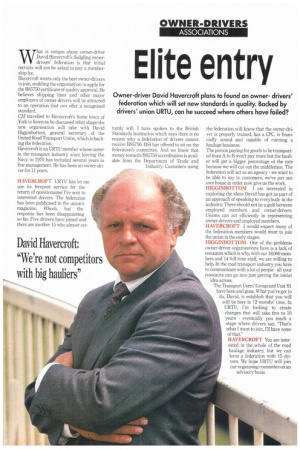 Page 33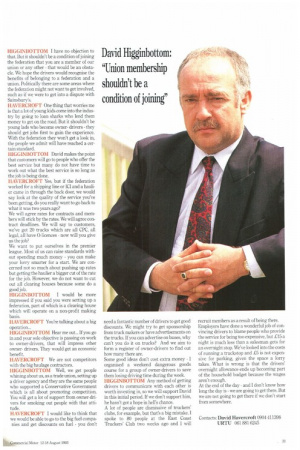 Page 32, 12th August 1993 —
Elite entry
Close
Owner-driver David Havercroft plans to found an ownerdrivers' federation which will set new standards in quality. Backed by drivers' union URTU, can he succeed where others have failed?
What is unique about owner-driver David Havercroft's fledgling ownerdrivers' federation is that initial recruits will not be asked to pay a membership fee.
Havercroft wants only the best owner-drivers to join, enabling the organisation to apply for the BS5750 certificate of quality approval. He believes shipping lines and other major employers of owner-drivers will be attracted to an operation that can offer a recognised standard.
CM travelled to Havercroft's home town of York to listen as he discussed what shape the new organisation will take with David Higginbottom, general secretary of the United Road Transport Union, which is backing the federation.
Havercroft is an URTU member whose career in the transport industry since leaving the Navy in 1970 has included several years in line management. He has been an owner-driver for 11 years.
HAVERCROFT URTU has let me use its freepost service for the return of questionaires I've sent to interested drivers. The federation has been publicised in the union's magazine, Wheels, but the response has been disappointing so far. Five drivers have joined and there are another 15 who almost cer
tainly will. I have spoken to the British Standards Institution which says there is no reason why a federation of drivers cannot receive BS5750. BSI has offered to sit on the federation's committee. And we know that money towards BS5750 accreditation is available from the Department of Trade and Industry. Customers using the federation will know that the owner-driver is properly trained, has a CPC, is financially sound and capable of running a haulage business.
The person paying for goods to be transported from A to B won't pay more but the haulier will get a bigger percentage of the rate because we will cut out the middleman. The federation will act as an agency we want to be able to say to customers, we've put our own house in order, now give us the work. HIGGINBOTTOM I am interested in exploring the ideas David has got as part of an approach of speaking to everybody in the industry. There should not be a gulf between employed members and owner-drivers. Unions can act efficiently in representing owner-drivers and employed members.
HAVERCROFT I would expect many of the federation members would want to join the union in the early stages.
HIGGINBOTTOM One of the problems owner-driver organisations have is a lack of resources which is why, with our 18,000 members and 14 full-time staff, we are willing to help. In the road transport industry you have to communicate with a lot of people all your resources can go into just getting the initial
idea across.
The Transport Users' Group and Unit '91 have been and gone. What you've got to
do, David, is establish that you will still be here in 12 months' time. In URTU, I'm looking to create changes that will take five to 10 years eventually you reach a stage where drivers say, "That's what I want to join, I'll have some of that."
HAVERCROFT You are interested in the whole of the road haulage industry, but we can form a federation with 15 drivers. We hope URTU will join our organising committee on an
advisory basis.
HIGGINBOTTOM I have no objection to that. But it shouldn't be a condition of joining the federation that you are a member of our union or any other • that would be an obstacle. We hope the drivers would recognise the benefits of belonging to a federation and a union. Politically there are some areas where the federation might not want to get involved, such as if we were to get into a dispute with Sainsbury's.
HAVERCROFT One thing that worries me is that a lot of young kids come into the industry by going to loan sharks who lend them money to get on the road. But it shouldn't be young lads who become ownerdrivers they should get jobs first to gain the experience. With the federation they won't get a look in, the people we admit will have reached a certain standard.
H1GGINBOTTOM David makes the point that customers will go to people who offer the best service but many do not have time to work out what the best service is so long as the job is being done.
HAVERCROFT Yes, but if the federation worked for a shipping line or ICI and a haulier came in through the back door, we would say look at the quality of the service you've been getting, do you really want to go back to what it was two years ago?
We will agree rates for contracts and members will stick by the rates. We will agree contract deadlines. We will say to customers, we've got 20 trucks which are all CPC, all legal, all have 0-licences now will you give us the job?
We want to put ourselves in the premier league. Most of us can raise standards without spending much money you can make your lorry smarter for a start. We are concerned not so much about pushing up rates but getting the haulier a bigger cut of the rate for the job. However, we do not want to cut out all clearing houses because some do a good job.
HIGGINBOTTOM I would be more impressed if you said you were setting up a federation, part of which is a clearing house which will operate on a non-profit making basis.
I IAVERCROFT You're talking about a big operation...
HIGGINBOTTOM Hear me out... If you go in and your sole objective is passing on work to owner-drivers, that will impress other ownerdrivers. They would get an economic benefit.
HAVERCROFT We are not competitors with the big haulage contractors.
IUGGINBOTTOM Well, we get people whining about us, as a trade union, setting up a driver agency and they are the same people who supported a Conservative Government which is all about promoting competition. You will get a lot of support from owner-drivers for smoking out people with that attitude.
HAVERCROFT I would like to think that we would be able to go to the big fuel companies and get discounts on fuel you don't
need a fantastic number of drivers to get good discounts. We might try to get sponsorship from truck makers or have advertisements on the trucks. If you can advertise on buses, why can't you do it on trucks? And we aim to form a register of owner-drivers to find out how many there are.
Some good ideas don't cost extra moneyorganised a weekend dangerous goods course for a group of owner-drivers to save them losing driving time during the week. H1GGINBOTTOM Any method of getting drivers to communicate with each other is worth investing in, so we will support David in this initial period. If we don't support him, he hasn't got a hope in hell's chance.
A lot of people are dismissive of truckers' clubs, for example, but that's a big mistake. I spoke to 80 people at the East Coast Truckers' Club two weeks ago and 1 will remit members as a result of being there. Employers have done a wonderful job of convincing drivers to blame people who provide the service for being too expensive, but £15 a night is much less than a salesman gets for an overnight stop. We've looked into the costs of running a truckstop and £5 is not expensive for parking, given the space a lorry takes. What is wrong is that the drivers' overnight allowance ends up becoming part of the household budget because the wages aren't enough.
At the end of the day and I don't know how long the day is we are going to get there. But we are not going to get there if we don't start from somewhere.
Contacts: David Havercroft 0904 411398 URTU 061 881 6245