Price as tested: £84,034 (Ex-VAT). Includes £1,530 for non-standard cab deflector kit and £2,564 for set of Alcoa aluminium wheels.
12th August 1993
Page 26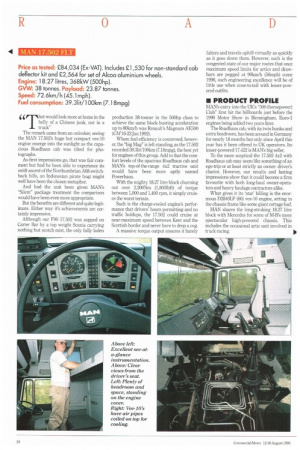 Page 28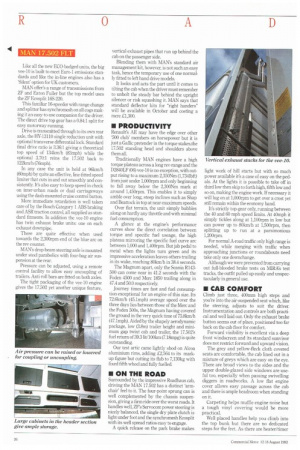 Page 29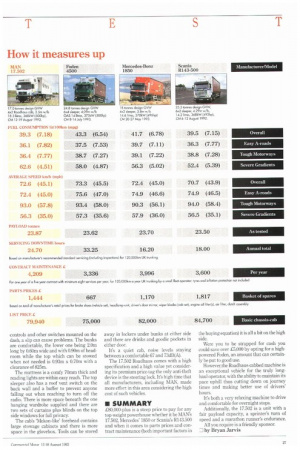 Page 26, 12th August 1993 —
Price as tested: £84,034 (Ex-VAT). Includes £1,530 for non-standard cab deflector kit and £2,564 for set of Alcoa aluminium wheels.
Close
Engine: 18.27 litres, 368kW (500hp).
GVVV: 38 tonnes. Payload: 23.87 tonnes.
Speed: 72.6km/h (45.1 mph).
Fuel consumption: 39.31it/100km (7.18mpg) 4 4 hat would look more at home in the
belly of a Chinese junk, not in a truck" The remark came from an onlooker, seeing the MAN 17.502's huge but compact vee-10 engine emerge into the sunlight as the capacious Roadhaus cab was tilted for photographs.
As first impressions go, that was fair comment but had he been able to experience its swift ascent of the Northumbrian A68 switchback hills, an Indonesian pirate boat might well have been the chosen metaphor.
And had the unit been given MAN's "Silent" package treatment the comparison would have been even more appropriate.
But the benefits are different and quite legitimate. Either way it's achievements are certainly impressive.
Although our F90 17.502 was zapped on Carter Bar by a top weight Scania carrying nothing but scotch mist, the only fully laden production 38-tanner in the 500hp class to achieve the same block-busting acceleration up to 801trn/h was Renault's Magnum AE500 (CM16-22 Jan 1992).
Where fuel efficiency is concerned, however, the "big Mag" is left standing, as the 17.502 recorded 39.31it/100km (7.18mpg), the best yet for engines of this group. Add to that the comfort levels of the spacious Roadhaus cab and MAN's top-of-the-range 4x2 tractive unit would have been more aptly named Powerhaus.
With the mighty 18.27 litre block churning out over 2,300Nm (1,8001bft) of torque between 1,000 and 1,400 rpm, it simply cruises the worst terrain.
Such is the charge-cooled engine's performance that drivers' hours permitting and no traffic holdups, the 17.502 could cruise at near-maximum speed between Kent and the Scottish border and never have to drop a cog.
A massive torque output ensures it barely falters and travels uphill virtually as quickly as it goes down them. However, such is the congested state of our major routes that once maximum speed limits for artics and drawbars are pegged at 90Iun/h (56mph) come 1996, such engineering excellence will be of little use when nose-to-tail with lesser-powered outfits.
• PRODUCT PROFILE
MAN's entry into the UK's "500 (horsepower) Club" first hit the billboards just before the 1990 Motor Show in Birmingham, Euro-1 engines being added two years later.
The Roadhaus cab, with its twin bunks and extra headroom, has been around in Germany for nearly 18 months but only since April this year has it been offered to UK operators. Its lesser-powered 17.422 is MAN's big seller, To the more sceptical the 17.502 4x2 with Roadhaus cab may seem like something of an ego-trip or at least strictly an ownerdriver's chariot. However, our results and lasting impressions show that it could become a firm favourite with both long-haul owner-operators and heavy haulage contractors alike.
What gives it its 'star' billing is the enormous D2840LF (60) vee-10 engine, sitting in the chassis frame like some giant cottage loaf.
MAN shares the long-stroking 18.27 litre block with Mercedes for some of M-B's more spectacular high-powered chassis. This includes the occasional artic unit involved in truck racing.
MAN 17.502 FLT
Like all the new ECO-badged units, the big vee-10 is built to meet Euro-1 emissions standards and like the in-line engines also has a 'Silent' option for UK customers.
MAN offer's a range of transmissions from ZF and Eaton Fuller but the top model uses the ZF Ecosplit 165-220.
This familiar 16-speeder with range change and splitter has synchromesh on all cogs making it an easy-to-use companion for the driver. The direct drive top gear has a 0.81:1 split for easy motorway running.
Drive is transmitted through to its own rear axle, the HY-13110 single reduction unit with optional transverse differential lock. Standard final drive ratio is 3.36:1 giving a theoretical top speed of 134km/h (83mph) while the optional 3.70:1 reins the 17.502 back to 122km/h (76mph).
In any case the unit is held at 96km/h (60mph) by quite an effective, line-fitted speed limiter that cuts in and out smoothly and consistently. It's also easy to keep speed in check on inter-urban roads or dual carriageways using the dash-mounted cruise control button.
More immediate retardation is well taken care of by the Bosch Category 1 ABS braking and ASR traction control, all supplied as standard fitments. In addition the vee-10 engine has twin exhaust brake units: one on each exhaust downpipe.
These are quite effective when used towards the 2,300rpm end of the blue arc on the rev counter.
MAN's drop-beam steering axle is mounted under steel parabolics with four-bag air suspension at the rear.
Pressure can be adjusted, using a remote control facility to allow easy uncoupling of trailers. Anti-roll bars are fitted on both axles.
The tight packaging of the vee-10 engine gives the 17.502 yet another unique feature, vertical exhaust pipes that run up behind the cab on the passenger side.
Blending them with MAN's standard air management kit, however, is not such an easy task, hence the temporary use of one normally fitted to left hand drive models.
It looks and acts the part until it comes to tilting the cab when the driver must remember to unbolt the steady bar behind the upright silencer or risk squashing it. MAN says that standard deflector kits for "right handers" will be available in October and costing a mere £1,300.
PRODUCTIVITY
Renault's AE may have the edge over other 500 club members on horsepower but it is just a Gallic pretender in the torque stakes,the 17.502 standing head and shoulders above them all.
Traditionally MAN engines have a high torque plateau across a long rev-range and the D2840LF (06) vee-10 is no exception, with output rising to a maximum 2,350Nm (1,7341bft) from just under 1,000rpm and only beginning to fall away below the 2,300Nm mark at around 1,450rpm. This enables it to simply amble over long, steep inclines such as Shap and Beattock in top at near-maximum speeds.
Over flat terrain, the unit simply bubbles along on hardly any throttle and with minimal fuel consumption.
A glance at the engine's performance curves show the direct correlation between torque and specific fuel useage, the high plateau mirroring the specific fuel curve arc between 1,000 and 1,400rpm. But jab pedal to metal when the lights turn green and its impressive acceleration leaves others trailing in its wake, reaching 80km/h in 38.4 seconds.
The Magnum apart, only the Scania R143500 can come near in 412 seconds with the Foden 4500 and Merc 1850 trailing along in 47.4 and 50.0 respectively.
Journey times are fast and fuel consumption exceptional for an engine of this size. Its 72.6km/h (45.1mph) average speed over the three days lies between those of the Merc and the Foden 500s, the Magnum having covered the ground in the very quick time of 75.8km/h (47.1mph). Aided by the shapely aerodynamic package, low (3.8m) trailer height and minimum gap twixt cab and trailer, the 17.502's fuel return of 39.3 lit/100km (7.18mpg) is quite outstanding.
Our test artic came lightly shod on Alcoa aluminium rims, adding £2,564 to its markup figure but cutting its flab to 7,130kg with fixed fifth wheel and fully fuelled.
• ON THE ROAD
Surrounded by the impressive Roadhaus cab, driving the MAN 17.502 has a distinct 'armchair' feel to it. The four-point sprung can is well complemented by the chassis suspension, giving a firm ride over the worst roads. It handles well, ZFs Servocom power steering is nicely balanced, the single dry plate clutch is light under foot and the synchromesh Ecosplit with its well spread ratios easy to engage.
A quick release on the park brake makes light work of hill starts but with so much power available it's a case of easy on the pedals. At the lights it is possible to take off in third low then skip to forth high, fifth low and so on, making the engine work. If necessary it will lug on at 1,000rpm to get over a crest yet still remain within the economy band.
It's strictly top-gear only, running between the 40 and 60 mph speed limits. At 40mph it simply tickles along at 1,100rpm in low but can power up to 80km/h at 1,500rpm, then splitting up to run at a parsimonious 1,20Orpm.
For normal A-road traffic only high range is needed, while merging with traffic when approaching junctions or roundabouts need take only one downchange.
Although we were prevented from carrying out full-blooded brake tests on MIRA's test tracks, the outfit pulled up easily and unspectacularly in general use.
• CAB COMFORT
Climb just three, 400mm high steps and you're into the air-suspended seat which, like the steering, adjusts to suit the driver. Instrumentation and controls are both practical and well laid out Only the exhaust brake button seems out of place, positioned too far back on the cab floor for comfort.
Forward visibility is excellent via a deep front windscreen and its standard sunvisor does not restrict forward and upward vision.
The grey and yellow-fleck cloth covered seats are comfortable, the cab lined out in a mixture of greys which are easy on the eye. There are broad views to the sides and the upper double-glazed side windows are useful too, especially when passing swivelling diggers in roadworks. A low flat engine cover allows easy passage across the cab and there is ample headroom when standing on it.
Carpeting helps muffle engine noise but a tough vinyl covering would be more practical.
Well placed handles help you climb into the top bunk but there are no dedicated steps for the feet. As there are heater/timer controls and other switches mounted on the dash, a slip can cause problems. The bunks are comfortable, the lower one being 2.0m long by 0.60m wide and with 0.90m of headroom while the top which can be stowed when not needed is 0.93m x 0.70m with a clearance of 825m.
The mattress is a comfy 70mm thick and reading lights are within easy reach. The top sleeper also has a roof vent switch on the back wall and a buffer to prevent anyone falling out when reaching to turn off the radio. There is more space beneath the one hanging wardrobe supplied and there are two sets of curtains plus blinds on the top side windows for full privacy.
The cab's 'Mekon-like' forehead contains large stowage cabinets and there is more space in the glovebox. Tools can be stored away in lockers under bunks at either side and there are drinks and goodie pockets in either door.
It's a quiet cab, noise levels staying between a comfortable 67 and 73dB(A).
The 17.502 Roadhaus comes with a high specification and a high value yet considering its premium price-tag the only anti-theft device is the steering lock. It's high time that all manufacturers, including MAN, made more effort in this area considering the high cost of such vehicles.
• SUMMARY
180,000-plus is a steep price to pay for any top-weight powerhouse whether it be MAN's 17.502, Mercedes' 1850 or Scania's R143.500 and when it comes to parts prices and contract maintenance (both important factors in the buying equation) it is all a bit on the high side.
Were you to be strapped for cash you could save over 15,000 by opting for a highpowered Foden, an amount that can certainly be put to good use.
However,the Roadhaus-cabbed machine is an exceptional vehicle for the truly longhaul operator, with the ability to maintain its pace uphill thus cutting down on journey times and making better use of drivers' hours.
It's both a very relaxing machine to drive and comfortable for overnight stops.
Additionally, the 17.502 is a unit with a fair payload capacity, a sprinter's turn of speed and a marathon runner's endurance.
All you require is a friendly sponsor.
by Bryan Jarvis