Tacho charges failure
12th August 1993
Page 14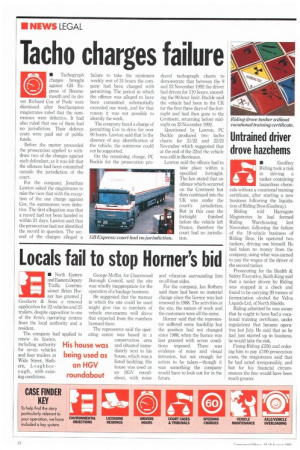 Page 14, 12th August 1993 —
Tacho charges failure
Close
Keywords :
Transport
,
Law
,
Land Transport
,
Legal Professions
,
Prosecution
,
Traffic Law
,
Criminal Law
,
Local Government In The United States
,
Prosecutor
,
Tachograph
,
Magistrate
,
Law / Crime
• Tachograph charges brought against GB Express of Bournemouth and its driver Richard Cox of Poole were dismissed after Southampton magistrates ruled that the summonses were defective. It had also ruled that one of them had no jurisdiction. Their defence costs were paid out of public funds.
Before the matter proceeded the prosecution applied to withdraw two of the charges against each defendant, as it was felt that the offences had been committed outside the jurisdiction of the court.
For the company, Jonathan Lawton asked the magistrates to take the view that with the exception of the one charge against Cox, the summonses were defective. The first allegation was that a record had not been handed in within 21 days. Lawton said that the prosecution had not identified the record in question. The second of the charges alleged a failure to take the minimum weekly rest of 24 hours the company had been charged with permitting. The period in which the offence was alleged to have been committed substantially exceeded one week, and for that reason it was not possible to identify the week.
The company faced a charge of permitting Cox to drive for over 90 hours. Lawton said that in the absence of any identification of the vehicle, the summons could not be supported.
On the remaining charge, PC Buckle for the prosecution pro duced tachograph charts to demonstrate that between the 9 and 22 November 1992 the driver had driven for 110 hours, exceeding the 90-hour limit. Buckle said the vehicle had been in the UK for the first three days of the fortnight and had then gone to the Continent, returning before midnight on 22 November 1992.
Questioned by Lawton, PC Buckle produced two tacho charts for 21/22 and 22/23 November which suggested that at the end of the 22nd the vehicle was still in Bordeaux.
Lawton said the offence had to take place within a specified fortnight. The law stated that an offence which occurred on the Continent but then continued into the UK was under the court's jurisdiction. But in this case the fortnight finished before the vehicle left France, therefore the court had no jurisdic tn.