Locals fail to stop Homer's bid
12th August 1993
Page 14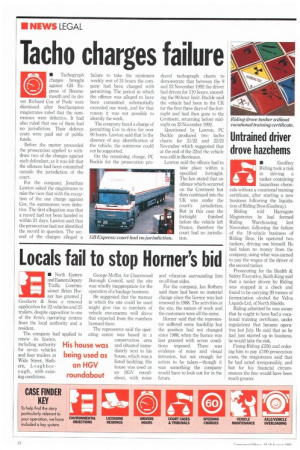 Page 14, 12th August 1993 —
Locals fail to stop Homer's bid
Close
Keywords :
Geography Of Antarctica
,
Antarctica
,
Physical Geography
,
Adelaide Island
,
Argentine Antarctica
,
British Antarctic Territory
,
Chilean Antarctic Territory
,
Rothera Research Station
,
Loughborough
,
Vehicle
,
Business / Finance
• North Eastern and Eastern Deputy Traffic Commissioner Brian Horner has granted J Goodacre & Sons a renewal application for 22 vehicles and 25 trailers, despite opposition to one of the firm's operating centres from the local authority and a resident.
The company had renew its licence, including authority for seven vehicles and four trailers at Wide Street, Hath ern, Loughborough, with existing conditions. George Moffat, for Charnwood Borough Council, said the site was wholly inappropriate for the operation of a haulage business.
He suggested that the manner in which the site could be used might give rise to numbers of vehicle movements well above that expected from the numbers licensed there.
The representor said the operating centre was based in a conservation area and situated immediately next to his house, which was a listed building. His house was used as an HGV roundabout, with noise and vibration surrounding him on all four sides.
For the company, Ian Rothera said there had been no material change since the licence was last renewed in 1988. The activities at the site, the nature of work and the customers were all the same.
Horner said that the representor suffered some hardship but the position had not changed since 1988, when the licence was last granted with seven conditions imposed. There was evidence of noise and visual intrusion, but not enough for action to be taken—though it was something the company would have to look out for in the future.