ONE HEARS
11th September 1923
Page 3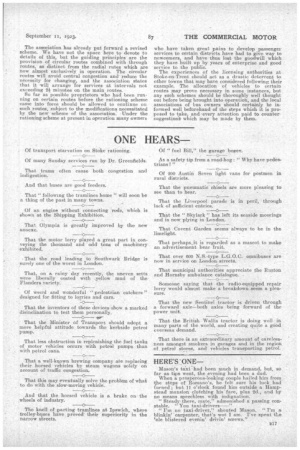 Page 3, 11th September 1923 —
ONE HEARS
Close
Of transport starvation on Stoke rationing.
Of many Sunday services run by Dr. Greenfields.
That trains often cause both congestion and indigestion.
And that buses are good feeders.
That " following the tramlines home" will soon be a thing of the past in many towns.
Of an engine without connecting rods, which is shown at the Shipping Exhibition.
That Olympia is greatly improved by the new annexe.
That the motor lorry played a great part in conveying the thousand and odd tons of machinery exhibited. .
That the road leading to Southwark Bridge is surely one of the worst in London.
That, on a rainy day recently, the uneven -setts were • liberally coated with .yellow mud of the Flanders variety.
Of weird and wonderful "pedestrian catchers " designed for fitting to lorries and cars.
That the inventors of these devices showa marked disinclination to test them personally.
That the the Minister Of Transport should adopt a more helpful attitude towards the kerbside petrol pump. , That less obstruction in replenishing the fuel tanks of motor vehicles occurs with petrol pumps than with petrol cans.
That a well-kaown brewing company ai-e replacing their horsed vehicles by steam wagons -solely on 'account of traffic congestion.
That this may eventually solve the problem of what to clo: with the slow-moving vehicle.
And that the horsed vehicle is a brake on' the ,wheels of industry.
The knell of parting tramlines at Ipswich, where trolley-buses have: proved their superiority in the narrow streets.
Of " fuel Bill," the garage bogey.
As a safety tip from a road-hog : "Why have pedestrians? "
Of -200 Austin Seven light vans for postmen in rural districts.
That the pneumatic chis▪ els are more pleasing to see than to hear.
That the Liverpool. parade is in peril, through lack of sufficient entries.. 0 That the " Skylark " has left its seaside moorings and is now plying in London. limelight.
That Covent Gardens:—
__ ems always to be in the That perhapsit is regarded as a mascot to make an advertisement bear fruit.
That over 600 N.S.-type L.G.O.C, omnibuses are now in service on London streets.
That municipal authorities appreciate the Ruston and Hornsby ambulance catalogue. .
Someone saying that the 'radio-equipped repair lorry would almost make a breakdown .seem a pleasure.
That the new Sentinel tractor is driven through a forward axle--both axles being forward of the power unit.
' That the British Wallis tractor is doing well in. many parts of the world, and creating quite a good overseas demand.
That there.is an extraordinary amount of carelessness amongst smokers in garages and in the region of petrol stores, and vehicles transporting petrol.