From Selfridge and Co., Ltd.
11th September 1923
Page 12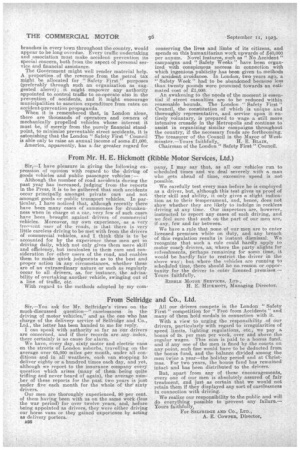 Page 12, 11th September 1923 —
From Selfridge and Co., Ltd.
Close
Sir,—You ask for Mr. Selfridge's views on the much-discussed ,question—" carelessness in the driving of motor vehicles," and as the one who has charge of the delivery service of Selfridge and Co., Ltd., the letter has been handed to me for reply.
I can speak with authority so far as our drivers are concerned, and if their records are anse.index, there certainly is no cause for alarm.
We have, every day, sixty motor and electric vans on the streets of London suburbs, travelling on the average over 65,000 miles per month, under all conditions and in an weathers, each van stopping to deliver eighty or a hundred times each day, and yet, although we report to the insurance company every question which arises (many of them being quite trifling and never heard of again), the average mini_her of these reports for the past, two years is just under five each month for the whole of th& sixty drivers.
Our men are thoroughly experienced, 90 per cent. of them having been with us on the same work (less the war period) for over twelve years, and, before being appointed as drivers, they were either driving our horse vans or they gained experience by acting as delivery porters.
B26 All our drivers compete in the London "Safety First competition for " Free from Accidents " and many of them hold medals in connection with it.
With a view to urging the responsibility of our drivers, particularly with regard to irregularities of speed limits, lighting regulations, etc.' we pay a bonus of 2s. per man per week, over and above the regular wages. This sum is paid to a bonus fund, and if any one of the men is fined by the courts on any point, such fine would have to be deducted from the bonus fund, and the balance divided among the men twice a year—the holiday period and at Christmas. For two years, the bonus fund has remained intact and has been distributed to the drivers.
But, apart from any of these encouragements, every one of our men is absolutely assured of fair treatment, and just as certain that we would not retain them if they displayed any sort of carelessness in connection with driving.
We realize our responsibility to the public and will do everything possible to prevent any failure.— Yours faithfully,
For SELFRIDGE AND CO., LTD., A. E. COWPER, Director,