From Mr. H. E. Hickmott (Ribble Motor Services, Ltd.)
11th September 1923
Page 12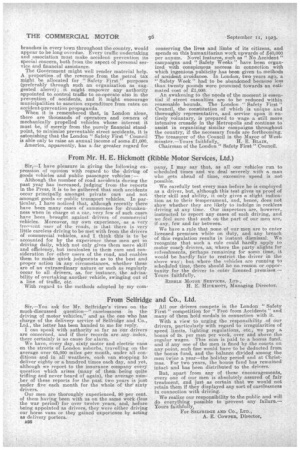 Page 12, 11th September 1923 —
From Mr. H. E. Hickmott (Ribble Motor Services, Ltd.)
Close
Sir,—I have pleasure in giving the following expression of opinion with regard to the driving of goods vehiclee and, public passenger vehicles :— Although the number of road accidents during the past year has increased, judging from the reports in the Press, it is to be gathered that such accidents occur principally, amongst private cars and not amongst goods or public transport vehicles. In particular, I have noticed that, although recently there have been many cases of summonses for drunkenness when in charge oi a ear, very few of such cases have been brought against drivers of commercial vehicles. Moreover, my own experience, as a very freneent user of the roads, is that there is very little careless driving to be met with from the drivers of commercial vehicles, and I think this is to be accounted for by the experience these men get in driving daily, which not only gives them more skill and efficiency, but inculcates in them care and consideration for other users of the road, and enables them to make quick judgments as to the best and proper action is any circumstanees, whether these are of an extraordinary nature or such as regularly occur to all drivers, as, for instance, the advisability of overtaking another vehicle, swinging out of a line of traffic, etc.
With regard to the methods adopted by my corn
pany, I may say that, as all our vehicles run to scheduled times and we deal severely with a man who gets ahead of time, excessive speed is not possible.
We carefully test every man before he is employed as a driver, but, although this test gives us proof of their skill and ability, it only gives a slight indication as to their temperament, and, hence, does not show whether they are likely to indulge in reckless driving at any time. Our inspectors are, however, instructed to report any cases of such driving, and we feel sure that such on the part of our men are, if any, few and far between.
We. have a rule that none of our men are to enter licensed premises while on duty, and any breach of this regulation results in instant dismissal. We recognize that such a rule could hardly apply to motor coacle drivers, as, where. the party alights for refreshments, Perhaps remaining for some time, it would be hardly fair to restrict the driver in the above way ; but where the vehicles are running to scheduled time, there should be no reason or opportunity for the driver to enter licensed premises.— Yours faithfully,
RIBBLE MOTOR SERVICES, LTD.,
H. E. -Moms-ow, Managing Director.