From Mr. Eric M. Carnage (A. W. Carnage, Ltd.).
11th September 1923
Page 11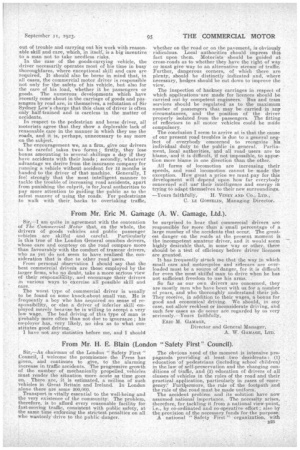 Page 11, 11th September 1923 —
From Mr. Eric M. Carnage (A. W. Carnage, Ltd.).
Close
Sir,—I am quite in agreement with the contention of The Commercial Motor that, on the whole, the drivers of goods vehicles and public passenger vehicles are skilful and careful. Particularly is this true of the London General omnibus drivers, whose care and courtesy on the road compare more than favourably with the conduct of tramcar drivers, who as yet do not. seem to have realized the consideration that is due -to other road users.
E'rom personal observation I should say that the Lest commercial drivers are those employed by the larger firms, who no doubt, take a more serious view of their responsilidity, and encourage their drivers in various ways to exercise all possible skill and care.
. The worst type of commercial driver is usually to be found on some knock-about small van. He is frequently a boy Who has acquired no sense of responsibility, or else a driver of inferior skill employed merely because he is willing to accept a very low wage. The bad driving of this type of man is probably more often than not due to ignorance; his employer has, very likely, no idea as to what constitutes goad driving,
. I have not any statistics before me-, anal should
be surprised to hear that commercial drivers. are responsible for more than a small percentage of a large number of the accidents that occur. The greatest danger on the reeds at the present moment is the incompetent amateur driver, and it would seem highly desirable that, in soine way or other, there should be a test of efficiency before driver licences are granted.
It ha,s frequently struck me that the way in which small cars and motorcycles and sidecars are overloaded must be a Source of danger, for it is difficult for even the most skilful man to drive when he has not sufficient freedom to use his arms. .
So far as our own drivers are concerned, they are mostly men who have been with us for a number of years, and who thoroughly understand their job. They receive, in addition to their wages, a bonus for good and economical driving. We should, in any case, not allots, reckless or inconsiderate driving, and such few oases as do occur are regarded by us very seriously.—Yours faithfully,
Elide' M. GAMAGE, • Director and General Manager,
• A. W. GAMAGE, LTD.