MAN splits ERF into two
11th October 2001
Page 7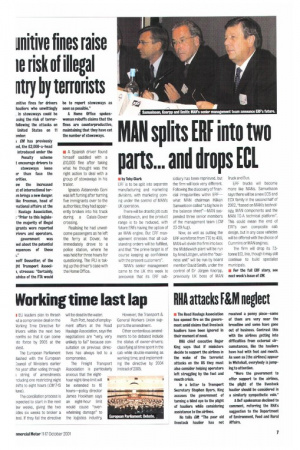 Page 7, 11th October 2001 —
MAN splits ERF into two
Close
arts.., and drops [CL
• by Toby Clark ERF is to be split into separate manufacturing and marketing divisions, with marketing coming under the control of MAN's UK operation.
There will be drastic job cuts at Middlewich, and the product range is to be reduced, with future ERFs having the option of an MAN engine. Rut ERF management stresses that all outstanding orders will be fulfilled, and that the prime target is of course keeping up confidence with the present customers".
MAN's senior management came to the UK this week to announce that its ERF sub
sidiary has been reprieved, but the firm will look very different. Following the discovery of financial irregularities within ERFwhat MAN chairman Nakao Samuelsson called "a big hole in the balance sheet" —MAN suspended three senior members of the management team (CM 23-29 Aug).
Now, as well as cutting the ERF workforce from 770 to 400, MAN will divide the firm into two: the Middlewich plant will be run by Arnd LOttgen, while the "business unit" will be run by board member David Smith, under the control of Dr Jurgen Knorpp, previously UK boss of MAN Truck and Bus.
ERF trucks will become more like MANs. Samuelsson says there will be a new ECS and ECX family in the second half of 2002, "based on MAN's technology, MAN components and the MAN TO-A technical platform". This could mean the end of ERF's own composite cab design, but in any case vehicles will be offered with the choice of Cummins or MAN engines.
The firm will drop its 7.5tonne ECL line, though it may still continue to build specialist municipals.
r For the full ERF story, see next week's issue of CM.