• The Road Haulage Association has opened fire on the
11th October 2001
Page 7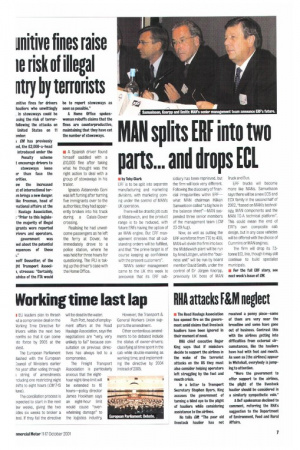 Page 7, 11th October 2001 —
• The Road Haulage Association has opened fire on the
Close
government amid claims that livestock hauliers have been ignored in their moment of need.
RIM chief executive Roger King says that if ministers decide to support the airlines in the wake of the terrorist attacks on the US they must also consider helping operators left struggling by the foot and mouth crisis.
In a letter to Transport Secretary Stephen Byers, King accuses the government of turning a blind eye to the plight of hauliers while considering assistance to the airlines.
He tells CM "The poor old livestock haulier has not received a penny piece—some of them are very near the breadline and some have gone out of business. Contrast this with the airlines getting into difficulties from external circumstances, like the hauliers have had with foot and mouth. As soon as [the airlines] appear in Whitehall, everybody is jumping to attention.
Were the government to offer support to the airlines, the plight of the livestock haulier should be considered in a similarly sympathetic vein."
A Dot spokesman declined to comment, referring the RHA's suggestion to the Department of Environment, Food and Rural Affairs.