\72 coNn
11th October 2001
Page 42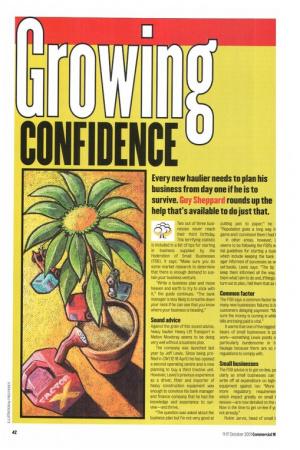 Page 43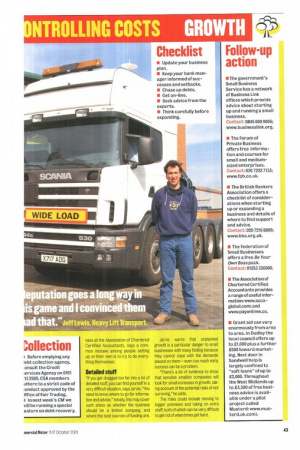 Page 42, 11th October 2001 —
\72 coNn
Close
ENCE
Every new haulier needs to plan his business from day one if he is to survive. Guy Shepparo rounds up the help that's available to do just that.
Two out of three businesses never reach their third birthday. This terrifying statistic is included in a list of tips for starting in business supplied by the Federation of Small Businesses (FSB). It says: "Make sure you do some market research to determine that there is enough demand to sustain your business venture.
"Write a business plan and move heaven and earth to try to stick with it," the guide continues. "The bank manager is less likely to breathe down your neck if he can see that you know where your business is heading."
Sound advice Against the grain of this sound advice, heavy haulier Heavy Lift Transport in Melton Mowbray seems to be doing very well without a business plan.
The company was launched last year by Jeff Lewis. Since being profiled in CM (12-18 April) he has opened a second operating centre and is now planning to buy a third tractive unit. However, Lewis's previous experience as a driver, fitter and importer of heavy construction equipment was enough to convince his bank manager and finance company that he had the knowledge and experience to survive—and thrive.
"The question was asked about the business plan but I'm not very good at
putting pen to paper," he "Reputation goes a long way in game and I convinced them I had 1 In other areas, however, 1 seems to be following the FSB's tial guidelines for starting a bushi which include keeping the bank ager informed of successes as w set-backs. Lewis says: "The tip keep them informed all the way. them what I aim to do and, if things turn out to plan, I tell them that as
Common factor
The FSB says a common factor IN many new businesses failures is L customers delaying payment: "Mi sure the money is coming in whili bills are being paid is vital."
It warns that one of the biggest bears of small businesses is pz work—something Lewis points c particularly burdensome in h haulage because there are so r regulations to comply with.
Small businesses The FSB advice is to get on-line, p2 ularly as small businesses can write off all expenditure on high. equipment against tax: "More more regulatory requiremer which impact greatly on small nesses—are now detailed on the Now is the time to get on-line if yr not already."
Robin Jarvis, head of small i
ness at the Association of Chartered Certified Accountants, says a common mistake among people setting up on their own is to try to do everything themselves.
Detailed stuff "If you get dragged too far into a lot of detailed stuff, you can find yourself in a very difficult situation, says Jarvis. "You need to know where to go for information and advice." Initially this may cover such areas as whether the business should be a limited company, and where the best sources of funding are. Jarvis warns that unplanned growth is a particular danger to small businesses with many folding because they cannot cope with the demands placed on them—even too much early success can be a problem.
"There's a lot of evidence to show that sensible smallish companies will look for small increases in growth, taking account of the potential risks of not surviving," he adds.
The risks could include moving to bigger premises and taking on extra staff, both of which can be very difficult to get rid of when times get hard.