:ut those fuel bills
11th October 2001
Page 41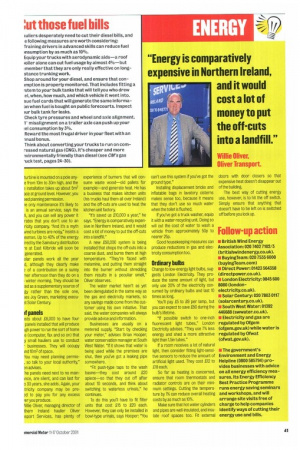 Page 41, 11th October 2001 —
:ut those fuel bills
Close
milers desperately need to cut their diesel bills, and e following measures are worth considering: Training drivers in advanced skills can reduce fuel insumption by as much as 10%.
Equip your trucks with aerodynamic aids—a roof ioiler alone can cut fuel usage by almost 4%—but :member that they are only really effective on longstance trunking work.
Shop around for your diesel, and ensure that conmotion is properly monitored. That includes fitting a 'stem to your bulk tanks that will tell you who drew el, when, how much, and which vehicle it went into. sue fuel cards that will generate the same informaDn when fuel is bought on public forecourts. Inspect )ur bulk tank for leaks.
Check tyre pressures and wheel and axle alignment. 1 misalignment on a trailer axle can push up your lel consumption by 3%.
Reward the most frugal driver in your fleet with an inual bonus.
Think about convertingyour trucks to run on cornressed natural gas (CNG). It's cheaper and more wironmentally friendly than diesel (see CAfs gas uuck test, pages 24-30).