There's nothing glamorous about tyres, but if you fail to
11th October 2001
Page 32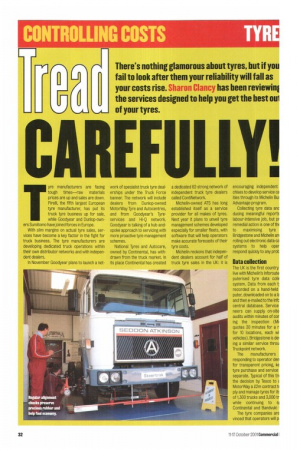 Page 33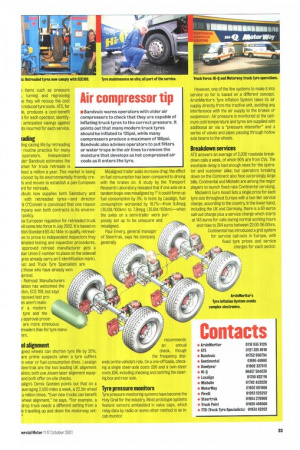 Page 32, 11th October 2001 —
There's nothing glamorous about tyres, but if you fail to
Close
look after them your reliability will fall as your costs rise. Sharon Clancy has been reviewing the services designed to help you get the best oui of your tyres.
CAREFULLY!
Tyre manufacturers are facing tough times—raw materials prices are up and sales are down. Pirelli, the fifth largest European tyre manufacturer, has put its truck tyre business up for sale, while Goodyear and Dunlop-owners Sumitomo have joined forces in Europe.
With slim margins on actual tyre sales, services have become a key factor in the fight for truck business. The tyre manufacturers are developing dedicated truck operations within their own distributor networks and with independent dealers.
In November Goodyear plans to launch a net work of specialist truck tyre dealerships under the Truck Force banner. The network will include dealers from Dunlop-owned MotorWay Tyre and Autocentres, and from Goodyear's Tyreservices and Hi-Q network. Goodyear is talking of a hub-andspoke approach to servicing with more proactive tyre management schemes.
National Tyres and Autocare, owned by Continental, has withdrawn from the truck market. In its place Continental has created a dedicated 62-strong network of independent truck tyre dealers called ContiNetwork.
Michelin-owned ATS has long established itself as a service provider for all makes of tyres. Next year it plans to unveil tyre management schemes developed especially for smaller fleets, with software that will help operators make accurate forecasts of their tyre costs.
Michelin reckons that independent dealers account for half of truck tyre sales in the UK: it is encouraging independenl chises to develop service c a ities through its Michelin Bi Advantage program.
Collecting tyre data an ducing meaningful reporl labour-intensive job, but r remedial action is one of if to maximising tyre Bridgestone and Michelin a rolling out electronic data-c systems to help op respond quickly to any pro
Data collection
The UK is the first country live with Michelin's lnforoute puterised tyre data collE system. Data from each recorded on a hand-held puter, downloaded on to a s and then e-mailed to the Info central database. Service neers can supply on-site audits within minutes of cc r lng the inspection (N quotes 30 minutes for a r for 10 locations, each sp i vehicles). Bridgestone is del mg a similar service throu Truckpoint network.
The manufacturers responding to operator den for transparent pricing, ke tyre purchase and service separate. Typical of this ti the decision by Tesco to E Motor Way a 22m contract if ply and manage tyres for if of 1,300 trucks and 3,0001r while continuing to si Continental and Bandvulc 1
The tyre companies are vinced that operators will p;
items such as pressure turning and regrooving ;e they will recoup the cost reduced tyre costs. ATS, for le, produces a cost-benefit s for each operator, identify! anticipated savings against As incurred for each service.
lading ling casing life by retreading routine practice for many
operators. Independent der Bandvulc estimates the
rket for truck retreads is bout a million a year. This market is being boost by its environmentally friendly ereIs and moves to establish a pan-European ird for retreads.
Idvulc now supplies both Sainsbury and
with retreaded tyres—and director %d O'Connell is convinced that one reason mpany won both contracts is its environ1 policy.
ew European regulation for retreaded truck viii come into force in July 2002.1t is based on itish Standard BS AU 144e: to qualify, retreadme to prove to independent inspectors they ietailed testing and inspection procedures. approved retread manufacturer gets a ean Union E-number to place on the sidewall yres already carry an E-identification mark). 'Lilo and Truck Tyre Specialists are
those who have already won iproval.
Retread Manufacturers iation has welcomed the tion, ECE 109, but says Goosed test proes aren't realis ir a modern tyre and the approval proceare more strenuous readers than for tyre manuers.
el alignment gned wheels can shorten tyre life by 20%; are prime suspects when a tyre suffers n wear or fuel consumption dives. Lasalign teertrak are the two leading UK alignment 'lists; both use Josam laser alignment equipand both offer on-site checks.
align's Derek Godden points out that on a averaging 2,500 miles a week, a 22.5in wheel a million times. "Even new trucks can benefit wheel alignment," he says. "For example, a drop truck needs a different setting from a e travelling up and down the motorway net
Misaligned trailer axles increase drag: the effect on fuel consumption has been compared to driving with the brakes on. A study by the Transport Research Laboratory revealed that if one axle on a tandem bogie was misaligned by'!" it could force up fuel consumption by 3%. in tests by Lasalign, fuel consumption worsened by 18.7%—from 9.4mpg (30.01it/100km) to 7.9mpg (35.61it/100km)—when the axles on a semi-trailer were purposely set up to be unsquare and misaligned.
Paul Emery, general manager of Steertrak, says his company generally recommends
an annual check, though the frequency depends on the vehicle's role. On a one-off basis, checking a single steer-axle costs £56 and a twin-steer costs £96, including checking and centring the steering box and rear axle.
Tyre pressure monitors Tyre pressure monitoring systems have become the Holy Grail for the industry. Most prototype systems feature sensors embedded in valve caps, which relay data by radio or some other method to an incab monitor.
However, one of the few systems to make it into service so far is based on a different concept. ArvinMeritor's Tyre Inflation System takes its air supply directly from the tractive unit, avoiding any interference with the air supply to the brakes or suspension. Air pressure is monitored at the optimum cold temperature and tyres are supplied with additional air via a "pressure intensifier" and a series of valves and pipes passing through hollow axle beams to the wheels.
Breakdown services ATS answers an average of 2,000 roadside breakdown calls a week, of which 90% are from CVs. The inevitable delay is bad enough news for the operator and customer alike; but operators breaking down on the Continent also face surprisingly large bills. Continental and Michelin are among the major players to launch fixed-rate Continental servicing.
Michelin's Euro Assist lists a single price for each tyre size throughout Europe with a two-tier service charge, according to the country. In the lower band, including the UK and Germany, there is a 60 euros call-out charge plus a service charge which starts at 143 euros for calls during normal working hours and rises to 264 euros between 22:00-06:00hrs. Continental has introduced a grid system for service call-outs in Europe, with fixed tyre prices and service
se/ charges for each sector.