SirJos Spagthorpe.
11th October 2001
Page 22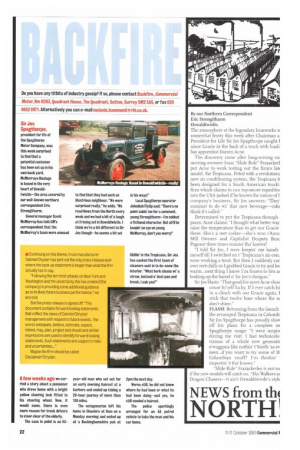 Page 22, 11th October 2001 —
SirJos Spagthorpe.
Close
president for life of the Spagthorpe Motor Company, was this week surprised to find that a potential customer has been set up in his awn back yard. McMurrays Haulage is based in the very heart of Oswaldtwistle—the area covered by our well-known northern correspondent Eric Strongitharm.
General manager David McMurray has told OW s correspondent that the McMurrays team were amused
to find that they had such an illustrious neighbour, "We were surprised really," he adds. "We read News from the North every week and we had a bit of a laugh at it being set in Oswaldwistle. I think we're a bit different to Sir Jos though—lie seems a bit set
in his ways!"
Local Spagthorpe operator Jebediah Flytip said: "There's no point askin' me for a comment, young Strongrtharm—I'm nobbut a fictional character. But ah'll be keepin' an eye on young McMurray, don't you worry!"