By our Northern Correspondent Eric Strongitharm Oswaldtvvistle.
11th October 2001
Page 22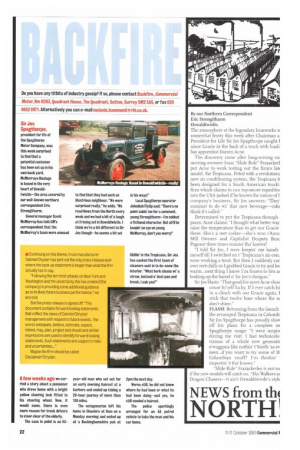 Page 22, 11th October 2001 —
By our Northern Correspondent Eric Strongitharm Oswaldtvvistle.
Close
The atmosphere at the legendary Ironworks v. somewhat frosty this week after Chairman a. President for Life Sir Jos Spagthorpe caught I niece Gracie in the back of a truck with loadi bay apprentice Darren Acne.
The discovery came after long-serving en neering overseer Isaac "Slide Rule" Frazackerl put Acne to work testing out the firm's lab model, the Tropicana. Fitted with a revolution2 new air conditioning system, the Tropicana h been designed for a South American trucki firm which claims to run top-secret expeditio into the USA (asked if he knows the nature oft company's business, Sir Jos answers: "They' summat to do wi' that new beverage—coke think it's called."
Determined to put the Tropicana through paces, Acne claims: "I thought what better way raise the temperature than to get our Grade there. She's a reef corker—she's won fAnnt Mill Owners and Capitalist Despots Beat Pageant three times runnin' tha' knows!
"I told Sir Jos, I were keepin' me hands meself till I switched on t' Tropicana's air-con. were working a treat. But then I suddenly car over reet chilly so I grabbed Gracie to try and ke warm...next thing I know I'm frozen to bits ai looking up the barrel o' Sir los's shotgun."
Sir Jos blasts: "That-good-for-nowt Acne shou count hi'self lucky. III ever catch hi in a clinch with our Gracie again, I stick that twelve bore where the st don't shine."
FLASH: Returning from the launch the revamped Tropicana in Columb: Sir Jos Spagthorpe has proudly shov off his plans for a complete no Spagthorpe range: "I were inspin during me visit. I had technicolovisions of a whole new generatie o'waggons like nothin' t'North 'as ev seen...d'you want to try some of th Columbian snuff? I'm thinkin' importin' it tha' knows."
"Slide Rule" Frazackerley is not su if the new models will catch on. "Sky Walkers at Dragon Chasers—it ain't Oswaldtwistle's style