Tachograph tampering was a 'total mystery' to firm
11th October 2001
Page 21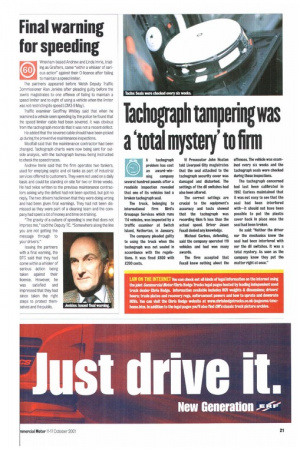 Page 21, 11th October 2001 —
Tachograph tampering was a 'total mystery' to firm
Close
• A tachograph problem has cost an award-win ning company several hundred pounds after a roadside inspection revealed that one of its vehicles had a broken tachograph seal.
The truck, belonging to international firm Bird's Groupage Services which runs 114 vehicles, was inspected by a traffic examiner at Switch Island, Netherton, in January.
The company pleaded guilty to using the truck when the tachograph was not sealed in accordance with the regulations. It was fined £600 with £200 costs. VI Prosecutor John Heaton told Liverpool City magistrates that the seal attached to the tachograph security cover was damaged and disturbed. The settings of the dil switches had also been altered.
The correct settings are crucial to the equipment's accuracy and tests showed that the tachograph was recording 6km/h less than the actual speed. Driver Jason Foxall denied any knowledge.
Michael Carless, defending, said the company operated 119 vehicles and had won many awards.
The firm accepted that Foxall knew nothing about the offences. The vehicle was examined every six weeks and the tachograph seals were checked during these inspections.
The tachograph concerned had last been calibrated in 1997. Carless maintained that it was not easy to see that the seal had been interfered with—it should not have been possible to put the plastic cover hack in place once the seal had been broken.
He said: "Neither the driver nor the mechanics knew the seal had been interfered with nor the dil switches. It was a total mystery. As soon as the company knew they put the matter right at once."