Prohibitions led to licence cui
11th October 2001
Page 20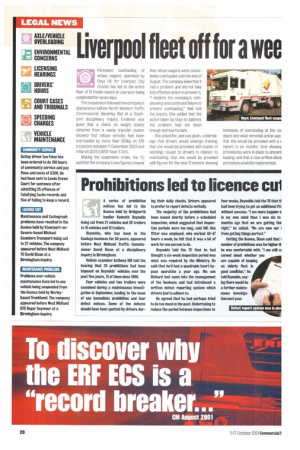 Page 20, 11th October 2001 —
Prohibitions led to licence cui
Close
Keywords :
A series of prohibition notices has led to the licence held by Bridgnorth haulier Kenneth Reynolds being cut from 21 vehicles and 20 trailers to 15 vehicles and 15 trailers.
Reynolds, who has been in the haulage business for 30 years, appeared before West Midland Traffic Commissioner David Dixon at a disciplinary inquiry in Birmingham.
Vehicle examiner Anthony Hill told the hearing that 23 prohibitions had been imposed on Reynolds vehicles over the past five years, 13 of them since 1999.
Four vehicles and two trailers were examined during a maintenance investigation in September, leading to the issue of one immediate prohibition and four defect notices. Some of the defects should have been spotted by drivers dur
ing their daily checks. Drivers appeared to prefer to report defects verbally.
The majority of the prohibitions had been issued shortly before a scheduled inspection, which suggested that inspection periods were toe long, said Hill. One fitter was employed, who worked 40-47 hours a week; he felt that it was a lot of work for one person to do.
Reynolds told the IC that he had thought a six-week inspection period was what was required by the Ministry. He said that he'd had a quadruple heart bypass operation a year ago. His son Richard had come into the management of the business and had introduced a written defect reporting system which drivers had to adhere to.
He agreed that he had perhaps tried to do too much in the past. Undertaking to reduce the period between inspections to four weeks. Reynolds told the IC that ti had been trying to get an additional fit without success. "I am more happier n in my own mind than I was six to months ago that we are getting thil right," he added. "We are now not from getting things perfect."
Cutting the licence, Dixon said that number of prohibitions was far higher tt he was comfortable with. "I am still a cerned about whether you are capable of keeping an elderly fleet in good condition," he told Reynolds, saying there would be a further maintenance investigation next year.