A forged permit can mean loll
10th September 1976
Page 54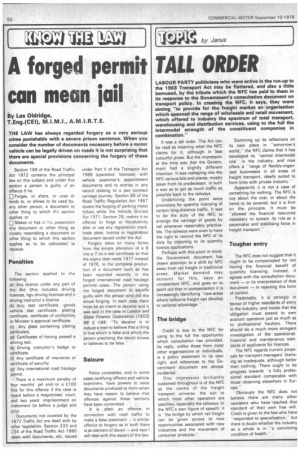 Page 54, 10th September 1976 —
A forged permit can mean loll
Close
By Les Oldridge, T.Eng.(CEI), M.I.M.I., A.M.I.R.T.E.
THE LAW has always regarded forgery as a very serious crime punishable with a severe prison sentence. When you. consider the number of documents necessary before a motor vehicle can be legally driven on roads it is not surprising that there are special provisions concerning the forgery of these documents.
Section 169 of the Road Traffic Act 1972 contains the principal law on this subject and under this section a person is guilty of an offence if he Forges, or alters, or uses or lends to, or allows to be used by, any other person, a document or other thing to which tho section applies; or
L Makes or has irthis possession any document or other thing so closely resembling a document or other thing to which this section applies as to be calculated to deceive Penalties
The section applied to the following!
(a) Any licence under any part of the Act (this includes driving licences, hgv driving licences and a driving instructor's licence.
(b) Any test certificate, goods vehicle test certificate, plating certificate, certificate of conformity or Minister's approval certificate.
(c) Any plate containing plating particulars.
(d) Certificates of having passed a driving test.
(e) Driving instructor's badge or certificate.
(f) Any certificate of insurance or certificate of security.
(g) Any international road haulage .permit.
There is a maximum penalty of four months' jail and/or a i:100 fine for this offence if the case is heard before a magistrates' court, and two years imprisonment on indictment (ie before a judge and jury).
Documents not covered by the 1972 Traffic Act are dealt with by other legislation. Section 233 and 234 of the Road Traffic Act 1960 deals with documents, etc, issued under Part V of the Transport Act 1968 (operators' licences); with vehicle examiner's appointment documents and to entries in any record relating to a psv contract carriage journey. Section 86 of the Road Traffic Regulation. Act 1967 covers the forging of parking meter tickets while the Vehicle (Excise) Act 1971, Section 26, makes it an offence to forge or fraudulently alter or use any registration mark, trade plate, licence or registration document issued under the Act.
Forgery takes on many forms from the simple alteration of a 6 into a 7 on a test certificate so that the expiry date reads 1977 instead of 1976, to the complete production of a document such as has been reported recently in the forged international road haulage permits cases. The person using the forged document is equally guilty with the person who did the actual forging. In each case there must be an intent to deceive and it was said in the case re London and Globe Finance Corporation (1903) 88 1/ 194: "To deceive is to induce a man to believe that a thing is true which is false and which the person practising the deceit knows or believes to be false."
Seizure
Police constables, and in some cases certifying officers and vehicle examiners, have powers to seize documents produced to them when they have reason to believe that offences against these sections have been committed.
It is often an offence in connection with road traffic to make a false statement -a similar offence to forgery as in both there is an element of deceit -and next I will deal with this aspect.of the law.