RODDY STS HIS Y TO SUCCESS...
10th September 1976
Page 29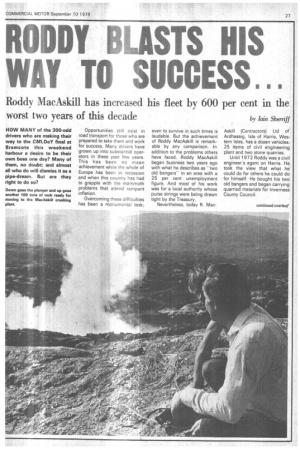 Page 30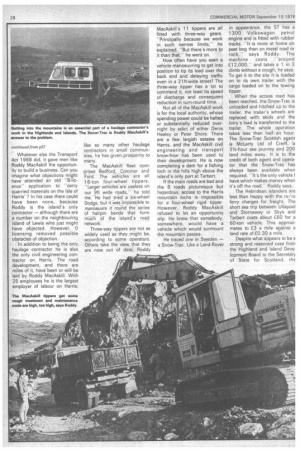 Page 31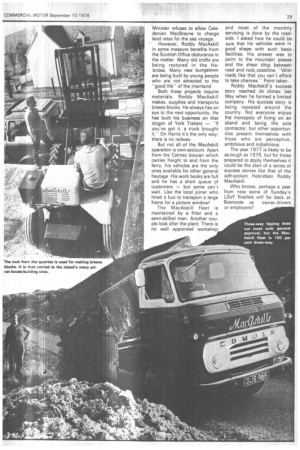 Page 29, 10th September 1976 —
RODDY STS HIS Y TO SUCCESS...
Close
Roddy MacAskill has increased his fleet by 600 per cent in the worst two years of this decade
by Ian Sherriff
HOW MANY of the 300-odd drivers who are making their way to the CMILDoY final at Bramcote this weekend harbour a desire to be their own boss one day? Many of them, no doubt; and almost all who do will dismiss it as a pipe-dream. But are they right to do so? Opportunities stili exist in road transport for those who are prepared to take them and work for success. Many drivers have grown up into substantial operators in these past few years. This has been no mean achievement while the whole of Europe has been in recession and when this country has had to grapple with the mammoth problems that attend rampant inflation.
Overcoming these difficulties has been a monumental task;
even to survive in such times is laudable. But the achievement of Roddy MacAskill is remarkable by any comparison. In addition to the problems others have faced, •Roddy MacAskill began business two years ago with what he describes as "two old bangersin an area with a 25 per cent unemployment figure. And most of his work was for a .local authority whose purse strings were being drawn tight by the Treasury.
Nevertheless, today R. Mac Askill (Contractors) Ltd of Ardhasaig, Isle of Harris, Western Isles, has a dozen vehicles; 25 items of civil engineering plant and two stone quarries.
Until 1972 Roddy was a civil engineer's agent on Harris, He took the view that what he could do for others he could do for himself. He bought his two old bangers and began carrying' quarried materials for Inverness County Council.
Whatever else the Transport. Act 1968 did, it gave men like Roddy MacAskill the opportunity to build a business. Can you imagine what objections might have attended an old "B-licence' application to "carry quarried materials on the Isle of Harris'? In his case there could have been none, because Roddy is the island's only contractor — although there are a number on the neighbouring Island of Lewis who just might have objected. However, 0 licensing removed possible obstacles of objection.
In addition to being the only haulage contractor he is also the only civil engineering contractor on Harris. The road development, and there are miles of it, have been or will be laid by .Roddy MacAskill. With 25 employees he is the largest employer of labour on Harris; like so many other haulage contractors in small communities, he has given prosperity to many.
The MacAskill fleet comprises Bedford,_Commer and Ford. The vehicles are all 16-ton four-wheel tippers. "Larger vehicles are useless on our 9ft wide roads,he told me. He had tried a six-wheel Dodge, but it was impossible to manoeuvi-e it round the series of hairpin bends that form much of the island's road network.
Three-way tippers are not as widely used as they might be, according to some operators. Others take the view that they are now out of date. Roddy MacAskill's 11 tippers are all fitted with three-way gears. "Principally because we workin such narrow limits," he explained. "But there's more to it than that," he went on.
How often have you seen a vehicle manoeuvring to get into position to tip its load over the back end and delaying traffic even in a 21ft-wide street? The three-way tipper has a lot to commend it, not least its speed of discharge and consequent reduction in turn-round time.
Not all of the MacAskill work is for the local authority, whose spending power could be halted or substantially reduced overnight by edict of either Denis Healey or Peter Shore. There are a few largish estates on Harris, and the MacAskill civil engineering and transport know-how has been used to their development. He is now completing a dam for a fishing loch in the hills high above the island's only port at Tarbert.
If the main roads are bad and the B roads picturesque but hazardous, access to the Harris mountain lochs is impossible for a four-wheel rigid tipper. However, Roddy MacAskill refused to let an opportunity slip. He knew that somebody, somewhere, would have a vehicle which would surmount the mountain passes.
He traced one in Sweden — a Snow-Trac. Like a Land-Rover
in appearance, the ST has a 1300 Volkswagen petrol engine and is fitted with rubber tracks. -It is more at home on peat bog than on metal road or rock,'' says Roddy. The machine costs -around 1212,000,and takes a 1 in 3 climb without a cough, he says. To get it to the site it is loaded on to its own trailer with the cargo loaded on to the towing tipper.
When the access road has been reached, the Snow-Trac is unloaded and hitched up to the trailer, the trailer's wheels are replaced with skids and the lorry's load is transferred to the trailer. The whole operation takes less than half an hour. The Snow-Trac Scottish agent is McLarty Ltd of Creiff, a 31/2-hour sea journey and 200 land miles away. It is to the credit of both agent and operator that the Snow-Trac has always been available when required. "it's the only vehicle I have which makes money when it's off the road," Roddy says.
The Hebridean islanders are less than happy with the ro/ro ferry charges for freight. The short sea trip between Ullapool and Stornaway or Skye and Tarbert costs about -£60 for a 60-ton vehicle. This approximates to £3 a mile against a land rate of £0.30 a mile.
Despite what appears to be a strong and reasoned case from the Highland and Island Development Board to the Secretary of State for Scotland, the Minister refuses to allow Caledonian MacBrayne to charge land rates for the sea voyage.
However, Roddy MacAskill in some measure benefits from the Scottish Office obdurance in the matter. Many old crofts are being restored in the Hebrides. Many new bungalows are being built by young people who are not attracted to the "good life'' of the mainland.
Both these projects require materials. Roddy MacAskill makes, supplies and transports breeze blocks. He always has an eye to the next opportunity. He has built his business on that slogan of York Trailers — "If you've got it, a truck brought it." On Harris it's the only way; there is no railway.
But not all of the MacAskill operation is own-account. Apart from the Calmac boxvan which carries freight to and from the ferry, his vehicles are the only ones available for other general haulage. His work books are full and he has a short queue of customers — but some can't wait. Like the local joiner who hired a bus to transport a large frame for a picture window!
The MacAskill fleet is maintained by a fitter and a semi-skilled man. Another couple look after the plant. There is no well appointed workshop and most of the monthly servicing is done by the roadside. I asked how he could be sure that his vehicles were in good shape with such basic facilities. His answer was to point to the mountain passes and the sheer drop between road and rock,coastline. "With roads like that you can't afford to take chances." Point taken.
Roddy MacAskill's success story reached its climax last May when he formed a limited company. His success story is being repeated around the country. Not everyone enjoys the' monopoly of living on an island and being the sole contractor, but other opportunities present themselves with those who are perceptive, ambitious and industrious.
The year 1977 is likely to be as,tough as 1976, but for those -prepared to apply themselves it could be the start of a series of success stories like that of the soft-spoken Hebridean Roddy MacAskill.
Who knows, perhaps a year from now some of Sunday's LDoY finalists will be back at Bramcote as owner-drivers or employers?