One Hears
10th June 1915
Page 3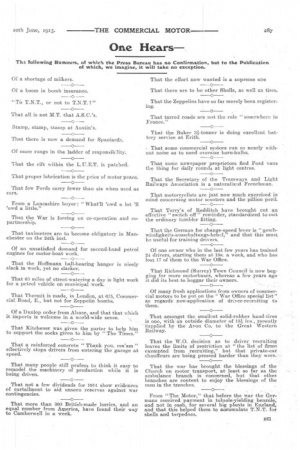 Page 3, 10th June 1915 —
One Hears
Close
Thz following Rumours, of which the Press Bureau has no Confirmation, but to the Publication of which, we imagine, it will take no exception.
Of a shortage of milkers.
Of a boom in bomb insurance.
"TO T.N.T., or not to T.N.T.?"
That all is not M.T. that A.S.C.'s.
Stamp, stamp, stamp at Austin's.
That there is now a demand for Spaniards.
-Of more rungs in the ladder of responsiblity.
That the rift within the L.U.E.T. is patched. That proper lubrication is the price of motor peace: That few Fords carry fewer than six when used as cars.
From a Lancashire buyer: "What'll Wad a lot fl lowd a little."
That the War is forcing on co-operation and copartnership.
That taximeters are to become obligatory in Manchester on the 24th inst.
Of an unsatisfied demand for second-hand petrol engines for motor-boat work.
That the Hoffmann ball-bearing hanger is nicely slack in work, yet no slacker.
That 60 miles of street-watering a day is light work for a petrol vehicle on municipal work.
That Thermit is made, in London, at 675, Commercial Road, E., but not for Zeppelin bombs.
Of a Dunlop order from Alsace, and that that which it imports is welcome in a world-wide sense.
That Kitchener was given the garter to help him to support the socks given to him by "The Times."
That a reinforced concrete "Thank you, ma'am" effectively stops drivers from entering the garage at speed.
That many people still profess to think it easy to remodel the machinery of production while it is being driven.
That not a few dividends for 1914 show evidences of curtailment to aid unseen reserves against war contingencies.
That more than 300 British-made lorries, and an equal number from America, have found their way to Camberwell in a week. That the effort now wanted is a supreme one That there are to be other Shells, as well as tires.
That the Zeppelins have so far merely been registering.
That tarred roads are not the rule " somewhere in France."
That the Baker 3"onner is doing excellent battery service at Erith.
That some commercial motors run so nearly without noise as to need oversize horn-bulbs.
That some newspaper proprietors find Ford vans the thing for daily rounds at light centres.
That the Secretary of the Tramways and Light Railways Asaociation is a naturalized Frenchman.
That motorcyclists are just now much exercised in mind concerning motor scooters and the pillion peril.
That Terry's of Redditeh have brought out an effective "switch off" reminder, standardized to suit the ordinary tumbler fitting.
That the German for change-speed lever is "gesch-wincligkeits-ausschaltungs-hely.-.1," and that this must be useful for training drivers.
Of one owner who in the last few years has trained 24 drivers, starting them at 18s. a week, and who has lost 17 of them to the War Offiee.
That Richmond (Surrey) Town Council is now be i beg for more motorbuses, whereas a few years ago it did its best to beggar their owners.
Of many fresh applications from owners of commercial motors to be put on the "War Office special list" as regards non-application of driver-recruiting tor them.
That amongst the smallest solid-rubber band-tires is one, with an outside diameter of 151ins., recently supplied by the Avon Co. to the Great Weslern Railway.
That the W.O. decision as to driver recruiting leaves the limits of restriction at "the list of firms exempted from recruiting," but that private-car chauffeurs are being pressed harder than they were.
That the war has brought the blessings of the Church on motor transport, at least so far as the ambulance branch is concerned, but that other branches are content to enjoy the blessings of the men in the trenches.
From "The Motor," that before the war the Germans received payment in toluole-yielding benzole, and not in cash, for several big plants in England, and that this helped them to accumulate T.N.T. for shells and torpedoes.