To the A.S.C., M.T., on Active Service.
10th June 1915
Page 21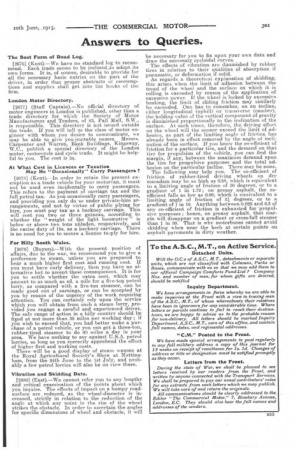 Page 21, 10th June 1915 —
To the A.S.C., M.T., on Active Service.
Close
Iiitached Units.
Will the aCs of A.S.C., M.T., detachments or separate units, which are not classified with Columns, Parks or Bases, communicate with us so that we may add them to our official Campaign Comforts Fund List ? Company Nos. and number of men, for whom gifts are desired, should be notified Inquiry Department.
We have arrangements in force whereby we are able to make inquiries at the Front with a view to tracing men of the A.S.C., M.T., of whose whereabouts their relatives have been in ignorance for any considerable time. Where letters or parcels continue to fail to reach their destinations, we are happy to advise as to the probable reason for non-delivery. All letters should be marked Inquiry Department, A.S.C., M.T., care of this office, and contain full names, dates, and regimental addresses.
" C.M." Posted to the Front.
We have made special arrangements to post regularly to any full military address a copy of this journal for 13 weeks on receipt of remittance for is. 1d. Changes of address or title or designation must be notified promptly as they occur, Letters from the Front.
During the state of War, we shall be pleased to see letters received by our readers from the Front, and written by anyone connected with the Transport Services, We shall be prepared to pay our usual contributors' rates for any extracts from such letters which we may publish. We will take care of and return the originals.
All communications should be clearly addressed to the, Editor " The Commercial Motor," 7, Rosebery Avenue, London, E.C. They should also bear the full names and addresses of the senders.