Sheet Metal.
10th June 1915
Page 20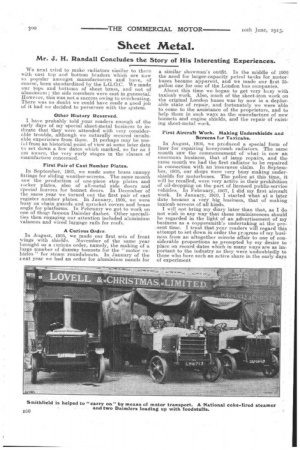 Page 20, 10th June 1915 —
Sheet Metal.
Close
Mr. J. H. Randall Concludes the Story of His Interesting Experiences.
• We next tried to make radiators similar to thoee with cast tap and bottom headers which are now s•:..) popular amongst manufacturers and have, of course, been standardized by the L.G.O.C. We made our tops and bottoms of sheet brass, and not of aluminium ; the side members were cast in gunmetal. However, this was not.a success owing to overheating. There was no doubt we could have made a good job of it had we decided to persevere with the system.
Other History Reserved..
I have probably told your readers enough of the early days of my special sheet-metal business to indicate that they were attended with very considerable trouble, althongh we naturally secured invaluable experience from them. It perhaps may be useful from an historical point of view at some later date to set down a few dates which marked, so far as I am aware, the very early stages in the classes of manufacture concerned.
First Pair of Cast Number Plates.
In September, 1903, we made some brass canopy fittings for sliding weather-screens. The same month saw the production of one-piece step plates and ocker plates, also of gIl-metal side doors and i;pecial louvres for bonnet doors. In December of the same year we turned out the first pair of cast register number plates. In January, 1005, we were busy on chain guards and sprocket covers and brass angle for platforms. In February we got to work on one Of those famous Daimler dashes. Other specialities then engaging our attention included aluminium valances and wired luggage rails for roofs, A Curious Order.
In August, 1903, we made our first sets of front wings with shields. November of the same year brought us a curious order, namely, the making of a large number of dummy bonnets for the "motor vehicles " for steam roundabouts. In January of the kext year we had an order for aluminium panels for
a similar showman's outfit. In the middle of 1906 the need for larger-capacity petrol tanks for motor buses became apparent, and we made our first 35 gallon one for one of the London bus companies. .
About this time we began to get very busy with taxicab work. Also, much of the sheet-iron work on the original London buses was by now in a deplorable state of repair, and fortunately we were able to come to the assistance of the proprietors, and to help them in such ways as the manufacture of new bonnets and engine shields, and the repair of exist ing sheet-metal work.
First Aircraft Work. Making Undershields and Screens fur Taxicabs.
In August, 1906, we produced a special form of liner for repairing honeycomb radiators. The same month sa-w the commencement of what is now an enormous business, that of lamp repairs, and the same month we had the first radiator to be repaired in connection with an 'insurance claim. In September, 1906, our shops were very busy making undershields for motorbuses. The police at this time. it will be recalled, were very active in their prohibition of oil-dropping. on the part of licensed public-service vehicles. In February, .1907, I did my first aircraft work. In January, 1910, I started what at a islet date became a very big business, that of making taxicab screens Of all kinds.
I will not bring my diary later than that, as I do not wish in any way that these reminiscences should be regarded in the light of an advertisement of my business as a coppersmith's undertaking at the present time. I trust that your readers will regard this attempt to Set down in order the progress of my business from an altogether minute affair to one of considerable proportions as prompted by my desire to place on record dates which in many ways are as important to the industry as they were undoubtedly to those who bore such an active share in the early days of experiment