What Users Tell Us
10th June 1915
Page 15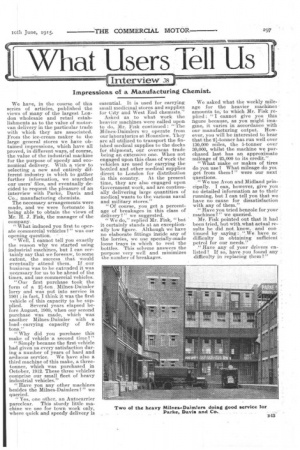 Page 16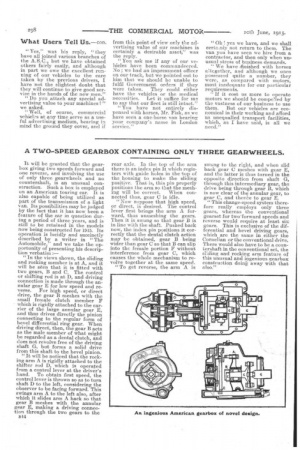 Page 15, 10th June 1915 —
What Users Tell Us
Close
Interview 38
Impressions of a Manufacturing Chemist.
We have, in the course of this series of articles, published the views of many of the largest London wholesale and retail establishments as to the value of motorvan delivery in the particular trade with which they are associated. From the ice-cream maker to the large general stores we have obtained impressions, which have all proved, in different ways, of course, the value of the industrial machine for the purpose of speedy and economical delivery. With a view to selecting a new and entirely different industry in which to gather further information, we searched our users files, and eventually decided to request the pleasure of an interview with Parke, Davis and Co., manufacturing chemists.
The necessary arrangements were made, and we were fortunate in being able to obtain the views of Mr. H. J. Fisk, the manager of the company.
" What induced you first to operate commercial vehicles " was our opening question.
"Well, I cannot tell you exactly the reason why we started using industrial machines, but I can certainly say that we foresaw, to some extent, the success that would eventually attend them. If our business was to be extended it was IlUcessary for us to be ahead of the times, and use commercial vehicles.
" Our first purchase took the form of a 2-ton. Milnes-Daimler lorry and was put into service in 1901 ; in fact, I think it was the first vehicle of this capacity to be sup plied. Several years elapsed before August, 1909, when our second purchase was made, which was another Milnes-Daimler with a load carrying capacity of five tons."
"Why did you purchase this make of vehicle a second time ? "
"Simply because the first vehicle had given us every satisfaction during a number of years of hard and arduous service. We have also a third machine of this make, a threetonner, which was purchased in October, 1912. These three vehicles comprise our small fleet of heavy industrial vehicles."
" Have you any other machines besides the Milnes-Daimlers 1" we queried.
"Yes, one other, an Autoearrier parcelcar. This sturdy little machine we use for town work only, where quick and speedy delivery is essential. It is used for carrying small medicinal stores and supplies for City and West End chemists." Asked as to what work the heavier machines were called upon to do, Mr. Fisk continued : "The Milues-Daimlers we operate from our laboratories at Hounslow. They are all utilized to transport the finished medical supplies to the docks for shipment, our overseas trade being an extensive one. When not engaged upon this class of work the vehicles are used for carrying the bottled and other medical supplies direct to London for distribution in this country. At the present time, they are also engaged upon Government work, and are continually delivering large quantities of medical wants to the various naval and military stores." "Of course, you get a percentage of breakages in this class of delivery 1 " we suggested. "We do," replied Mr. Fisk, "but it certainly stands at an exceptionally low figure. Although we have no elaborate fittings inside any of the lorries, we use specially-made loose trays in which to rest the bottles. This scheme answers the purpose very well and minimizes the number of breakages.
We asked what the weekly mileage for the heavier machines amounts to, to which Mr. Fisk replied : "I cannot give you this figure because, as you might imagine, it varies in accordance with our manufacturing output. However, you will be interested to hear that the 2:1-tonner has run well over 130,000 miles, the 5-tonner over 30,000, whilst the machine we purchased last has an approximate mileage of 25,000 to its credit."
"What make or makes of tires do you use 7 What mileage do yot get from them ? " were our next questions.
" We use Avon and Midland principally. I can, however, give you no detailed information as to their running, but I can tell you that we have no cause for dissatisfaction with any of them."
" Have you tried benzole for your machines.?" we queried.
Mr. Fisk pointed out that it had been tried, but with what actual results he did not know, and con. tinned by saying : ".We have nc difficulty in obtaining sufficient petrol for our needs."
." Have any of. your drivers enlisted? If so,have-you found any difficulty in replacing them ? " " Yes," was his reply, "they have all joined various branches of the A.S.C., but we have obtained others fairly easily, and although in part we owe the excellent running of our vehicles to the care taken by the previous drivers, I have not the slightest doubt that they will continue to give good service in the hands of the new men."
"Do you attach any special advertising value to your machines ? " we asked.
"Well, of course, commercial .aehieles at any time serve as a useful advertising medium, bearing in mind the ground they cover, and if
from this point of view only the advertising value of our machines is certainly a desirable asset," was the reply.
"You ask me if any of our VQhides have been commandeered.
; we had an impressment officer on our track, but we pointed out to him that we should be unable to fulfil Government orders if they were taken. They could either have the vehicles or the medical necessities. Let it suffice for me to say that our fleet is still intact."
"You have not entirely dispensed with horses, Mr. Fisk, as we have seen a one-horse van bearing your company's name in London service." " Oh ! yes we have, and we shall certainly not return to them. The van you have seen we hire from a contractor, and then only when unusual stress of business demands.
" We have :finished with horses etcgether, and although we once possessed quite a number, they were, as compared with motors, most inadequate for our particular requirements.
"If it cost us more to operate motors we should be compened by the vastness of our business to use them. But our vehicles are economical in their working and afford us unequalled transport facilities, which, as I have said, is all we need."