the common room
10th July 1970
Page 61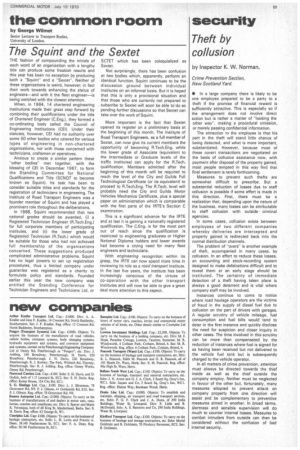 Page 61, 10th July 1970 —
the common room
Close
by George Wilmot
Senior Lecturer in Transport Studies, University of London.
The Squint and the Sextet
THE fashion of compounding the initials of each word of an organization with a lengthy title can produce some freakish results and this year has been no exception by producing both a "Squint" and a "Sextet". Neither of these organizations is weird, however; in fact their work towards enhancing the status of engineers—and with it the fleet engineer—is being watched with the closest attention.
When, in 1964, 14 chartered engineering institutions made their great step forward by combining their qualifications under the title of Chartered Engineer (C.Eng.), they formed a co-ordinating body called the Council of Engineering Institutions (CEI). Under their statutes, however, CEI had no authority over some 50 other bodies who catered for various types of engineering in non-chartered organizations, nor with those concerned with technicians, craftsmen or operatives.
Anxious to create a similar pattern these "other bodies" met together, with the blessing of CEI in December 1967, to form the Standing Committee for National Qualifications and Title (SCNQT to become known as Squint). Its task has been to consider suitable titles and standards for the registration of technicians in engineering. The Institute of Road Transport Engineers was a founder member of Squint and has played a prominent role throughout the deliberations.
In 1968, Squint recommended that two national grades should be awarded, (i) a Registered Technician Engineer (R.Tech.Eng.) for full corporate members of participating institutes, and (ii) the lower grade of Registered Technician (R.Tech.) which would be suitable for those who had not achieved full membership of the organizations concerned. These suggestions produced complicated administrative problems. Squint has no legal powers to set up registration procedures, thus a limited company under guarantee was registered as a charity to formulate policy and standards. Founded earlier this year the new company was entitled the Standing Conference for Technician Engineers and Technicians Ltd, or
SCTET which has been colotiuialized as Sextet.
Not surprisingly, there has been confusion at two bodies which, apparently, perform an identical function, Squint continues to be the discussion ground between individual institutes on an informal basis. But it is hoped that this is only a provisional situation and that those who are currently not prepared to subscribe to Sextet will soon be able to'do so pending further discussions so that Sextet can take over the work of Squint.
More important is the fact that Sextet opened its register on a preliminary basis at the beginning of this month. The Institute of Road Transport Engineers. as a full member of Sextet, can now give its current members the opportunity of becoming R.Tech.Eng, while the lower grade of Associate (equivalent to the Intermediate or Graduate levels of the traffic institutes) can apply for the R.Tech. qualification. Members admitted after the beginning of this month will be required to reach the level of the City and Guilds Full Technological Certificate (or its equivalent) to proceed to R.Tech.Eng. The R.Tech. level will probably need the City and Guilds Motor Vehicles Mechanics Certificate, plus a special paper on administration which is comparable with the first parts of the IRTE's Section C examination.
This is a significant advance for the IRTE and at last it is gaining a nationally registered qualification. The C.Eng. is for the most part out of reach since the qualification is restricted to engineering graduates or Higher National Diploma holders and lower awards had become a crying need for many fleet engineers and technicians.
With engineering recognition within its grasp, the IRTE can now spe,nd more time in reviewing its role as a road transport institute. In the last five years, the institute has been increasingly conscious of the virtues of co-operation with the other transport institutes and will now be able to give a great deal more attention to this aspect,