Stainless steel brightness
10th July 1970
Page 36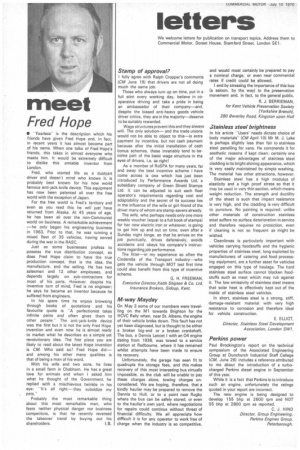 Page 36, 10th July 1970 —
Stainless steel brightness
Close
In his article "Users' needs dictate choice of body materials" (CM April 10) Mr M. J. Lake is perhaps slightly less than fair to stainless steel panelling for vans. He commends it for aesthetic reasons if kept clean; certainly one of the major advantages of stainless steel cladding is its bright shining appearance, which is very easily maintained by simple washing. The material has other attractions, however.
Stainless steel has a high modulus of elasticity and a high proof stress so that it may be used in very thin section, which means weight reduction. The strength and ductility of the sheet is such that impact resistance is very high, and the cladding is very difficult to puncture. No painting is required; unlike other materials of construction stainless steel suffers no surface deterioration in service and therefore requires no protection, even if cleaning is not so frequent as might be wished.
Cleanliness is particularly important with vehicles carrying foodstuffs and the hygienic properties of stainless steel, long exploited by manufacturers of catering and food processing equipment. are a further asset for vehicles engaged on this type of haulage. The hard stainless steel surface cannot blacken foodstuffs such as meat which may rub against it. The low emissivity of stainless steel means that solar heat is effectively kept out of the inside of stainless steel vehicles.
In short, stainless steel is a strong, stiff, damage-resistant material with very high resistance to corrosion and therefore ideal for vehicle construction.
E. ELLIOT, Director, Stainless Steel Development Association, London SW1.