Duravans galore
10th July 1970
Page 34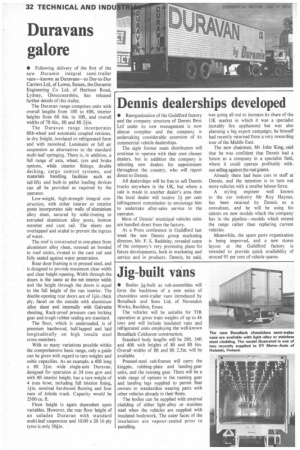 Page 34, 10th July 1970 —
Duravans galore
Close
• Following delivery of the first of the new Duramin integral semi-trailer vans—known as Duravans—to Dor-to-Dor Carriers Ltd, of Lewes, Sussex, the Duramin Engineering Co Ltd, of Harbour Road, Lydney, Gloucestershire, has released further details of this trailer.
The Duravan range comprises units with overall lengths from 18ft to 40ft, interior heights from 6ft 6in. to 10ft, and overall widths of 711 6in., 8ft and 8ft 2+in.
The Duravan range incorporates fifth-wheel and automatic coupled versions, in dry freight, insulated or refrigerated form and with monoleaf, Laminaire or full air suspension as alternatives to the standard multi-leaf springing. There is, in addition, a full range of axle, wheel, tyre and brake options, while interior fittings, double decking, cargo control systems, and materials handling facilities such as tail-lifts and built-in pallet loading devices can all be provided as required by the operator.
Low-weight, high-strength integral construction, with either interior or exterior posts incorporates side walls of aluminium alloy sheet, secured by solid-riveting to extruded aluminium alloy posts, bottom member and cant rail. The sheets are overlapped and sealed to prevent the ingress of water.
The roof is constructed in one-piece from aluminium alloy sheet, stressed an bonded to roof sticks, riveted to the cant rail and fully sealed against water penetration.
Rear door framing is in pressed steel, and is designed to provide maximum clear width and clear height opening. Width through the doors is the same as the net interior width and the height through the doors is equal to the full height of the van interior. The
double-opening rear doors are of 1-kin.-thick ply, ,faced on the outside with aluminium
alloy sheet and internally with Galvatite sheeting. Rack-proof pressure earn locking gear and tough rubber sealing are standard.
The floor, which is undersealed, is of premium hardwood, half-lapped and laid longitudinally on high tensile steel cross-members.
With so many variations possible within the comprehensive basic range, only a guide can be given with regard to tare weights and cubic capacities. As an example, a 40ft long x 8ft 2+in. wide single-axle Duravan, designed for operation at 24 tons gcw and with 8ft interior height, has a tare weight of 4 tons 6cwt. including full interior lining, 1+in. nominal hardwood flooring and four runs of Joloda track. Capacity would be 2500 cu. ft.
Floor height is again dependent upon variables. However, the rear floor height of an unladen Duravan with standard multi-leaf suspension and 10.00 x 20 16-ply tyres is only 5Q-tn. •