Dennis dealerships developed
10th July 1970
Page 34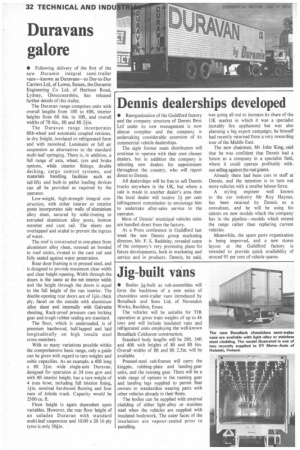 Page 34, 10th July 1970 —
Dennis dealerships developed
Close
• Reorganization of the Guildford factory and the company structure of Dennis Bros Ltd under its new management is now almost complete and the company is undertaking considerable extension of its commercial vehicle dealerships.
The eight former main distributors will continue to operate with their own chosen dealers, but in addition the company is selecting new dealers for appointment throughout the country, who will report direct to Dennis.
All dealerships will be free to sell Dennis trucks anywhere in the UK, but where a sale is made in another dealer's area then the local dealer will receive 2+ per cent infringement commission to encourage him to undertake after-sales service to the operator.
Most of Dennis' municipal vehicles sales are handled direct from the factory.
At a Press conference in Guildford last week the new Dennis group marketing director, Mr. F. S. Baddeley, revealed some of the company's very promising plans for future developments, both in marketing and service and in products. Dennis, he said, was going all out to increase its share of the UK market in which it was a specialist (notably fire appliances) but was also planning a big export campaign; he himself had recently returned from a very rewarding tour of the Middle East.
The new chairman, Mr John King, said that he was confident that Dennis had a future as a company in a specialist field, where it could operate profitably without selling against the real giants.
Already there had been cuts in staff at Dennis, and the intention is to turn out more vehicles with a smaller labour force, A styling engineer well known to the car industry Mr Roy Haynes, has been retained by Dennis as a consultant, and he will be using his talents on new models which the company has in the pipeline—models which extend the range rather than replacing current vehicles.
Meanwhile, the spare parts organization is being improved, and a new stores layout at the Guildford factory is intended to provide quick availability of around 95 per cent of vehicle Spares.