Ex Ministry man committed
10th July 1970
Page 30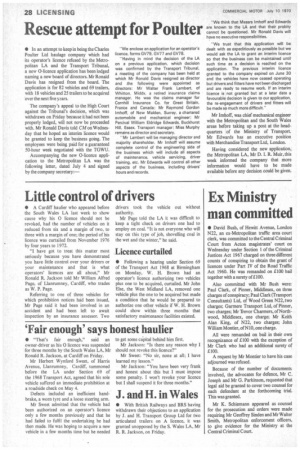 Page 30, 10th July 1970 —
Ex Ministry man committed
Close
• David Bush, of Hewitt Avenue, London N22. an ex-Metropolitan traffic area court clerk, was committed to the Central Criminal Court from Acton magistrates' court on Wednesday under Section 1 of the Criminal Justices Act 1967 charged on three different counts of conspiring to obtain the grant of licences under Part IV of the Road Traffic Act 1960. He was remanded on £100 hail together with a surety of £100.
Also committed with Mr Bush were: Paul Clark, of Pinner, Middlesex, on three charges of conspiracy; Paul Clark (Transport Consultants) Ltd, of Wood Green N22, two charges; Garmere Transport Ltd, of Pinner, two charges; Mr Trevor Charmers, of Northwood, Middlesex, one charge; Mr Keith Alan King, of N22, two charges; John William Montier, of N10, one charge.
All were remanded on bail in their own recognizance of £100 with the exception of Mr Clark who had an additional surety of £100.
A request by Mr Montier to have his case adjourned was refused.
Because of the number of documents involved, the advocates for defence, Mr C. Joseph and Mr G. Parkinson, requested that legal aid be granted to cover two counsel for each defendant at the forthcoming trial. This was granted.
Mr K. Schiemann appeared as counsel for the prosecution and orders were made requiring Mr Geoffrey Sinden and Mr Walter Smith, Metropolitan enforcement officers, to give evidence for the Ministry at the Central Criminal Court,