LT stands by its 'standees'
10th July 1970
Page 25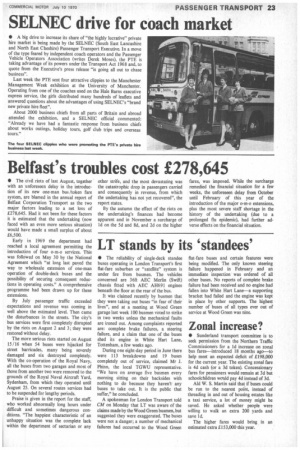 Page 25, 10th July 1970 —
LT stands by its 'standees'
Close
• The reliability of single-deck standee buses operating in London Transport's first flat-fare suburban or "satellite" system is under fire from busmen. The vehicles concerned are 36ft AEC Merlin (Swift) chassis fitted with AEC AH691 engines beneath the floor at the rear of the bus.
It was claimed recently by busmen that they were taking out buses "in fear of their lives", and at a meeting at Wood Green garage last week 100 busmen voted to strike in two weeks unless the mechanical faults are ironed out. Among complaints reported are: complete brake failures, a steering failure, and a claim that one of the buses shed its engine in White Hart Lane, Tottenham, a few weeks ago.
During one eight-day period in June there were 113 breakdowns and 19 buses completely out of service, claimed Mr J. Phinn, the local TGWU representative. "We have on average five busmen every morning sitting on their backsides with nothing to do because they haven't any buses to take out. It is the public that suffer," he concluded.
A spokesman for London Transport told CM on Monday that LT was aware of the claims made by the Wood Green busmen, but suggested they were exaggerated. The buses were not a danger; a number of mechanical failures had occurred to the Wood Green flat-fare buses and certain features were being modified. The only known steering failure happened in February and an immediate inspection was ordered of all other buses. No reports of complete brake failure had been received and no engine had fallen into White Hart Lane—a supporting bracket had failed and the engine was kept in place by other supports. The highest number of buses of all types ever out of service at Wood Green was nine.