Belfast's troubles cost £278,645
10th July 1970
Page 25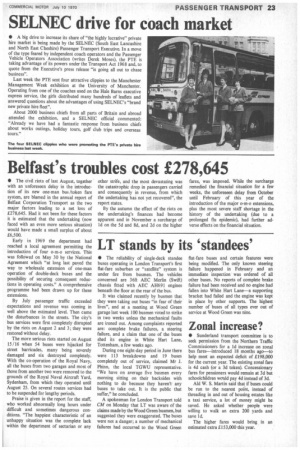 Page 25, 10th July 1970 —
Belfast's troubles cost £278,645
Close
• The civil riots of last August, together with an unforeseen delay in the introduction of its new one-man bus /token fare system, are blamed in the annual report of Belfast Corporation Transport as the two major factors leading to a net loss of £278.645. Had it not been for these factors it is estimated that the undertaking (now faced with an even more serious situation) would have made a small surplus of about £6,500.
Early in 1969 the department had reached a local agreement permitting the introduction of four o-m-o services. This was followed on May 30 by the National Agreement which "at long last paved the way to wholesale extension of one-man operation of double-deck buses and the possibility of securing consequent reductions in operating costs." A comprehensive programme had been drawn up for these extensions.
By July passenger traffic exceeded expectations and revenue was coming in well above the estimated level. Then came the disturbances in the streets. The city's bus services were first completely disrupted by the riots on August 2 and 3; they were restored without delay.
The more serious riots started on August 15 /16 when 54 buses were hijacked for street barricades, many being severely damaged and six destroyed completely. With the co-operation of the Royal Navy, all the buses from two garages and most of those from another two were removed to the grounds of the Royal Naval Aircraft Yard, Sydenham, from which they operated until August 25. On several routes services had to be suspended for lengthy periods.
Praise is given in the report for the staff, who worked abnormally long hours under difficult and sometimes dangerous conditions. The happiest characteristic of an unhappy situation was the complete lack within the department of sectarian or any other strife, and the most devastating was the catastrophic drop in passengers carried and consequently in revenue, from which the undertaking has not yet recovered", the report states.
By the autumn the effect of the riots on the undertaking's finances had become apparent and in November a surcharge of Id on the 5d and 8d, and 2d on the higher fares, was imposed. While the surcharge remedied the financial situation for a few weeks, the unforeseen delay from October until February of this year of the introduction of the major o-m-o extensions, plus the most severe staff shortage in the history of the undertaking (due to a prolonged flu epidemic), had further adverse effects on the financial situation.