BUS BRIEFS
10th July 1970
Page 24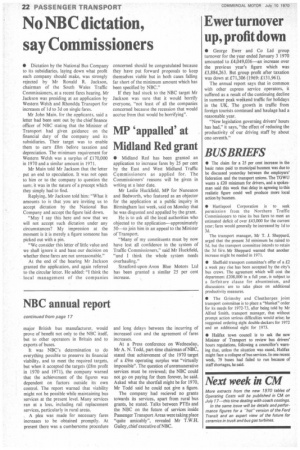 Page 24, 10th July 1970 —
BUS BRIEFS
Close
• The claim for a 25 per cent increase in the basic rates paid to municipal busmen was due to be discussed yesterday between the employers' federation and the transport unions. The TGWU wants a £20 minimum for drivers, and a spokesman said this week that delay in agreeing to this realistic figure could well produce more local action by busmen.
• Hartlepool Corporation is to seek permission from the Northern Traffic Commissioners to raise its bus fares to meet an estimated deficit of over £43,000 for the current year; fares would generally be increased by Id to 3d.
The transport manager, Mr T. 3. Sheppard, urged that the present 3d minimum be raised to 5d, but the transport committee intends to retain the 3d fdre. Mr Sheppard warned that another increase might be needed in 1971.
• Sheffield transport committee's offer of a £2 a week pay rise has been accepted by the city's bus crews. The agreement which will cost the department £208,000 in a full year, is subject to a forfeiture clause for absenteeism, and discussions are to take place on additional productivity measures.
• The Grimsby and Cleethorpes joint transport committee is to place a "blanket" order for its needs for 1972-73, after being told by Mr Alfred Smith, transport manager, that without prompt action serious difficulties would arise; he suggested ordering eight double-deckers for 1972 and an additional eight for 1973.
• Halifax town council is to ask the new Minister of Transport to review bus drivers' hours regulations, following a councillor's warning that, unless the situation was eased, Halifax might face a collapse of bus services. In one recent week, 79 buses had failed to run because of staff shortages, he said.