`Motec is the most'
10th July 1970
Page 22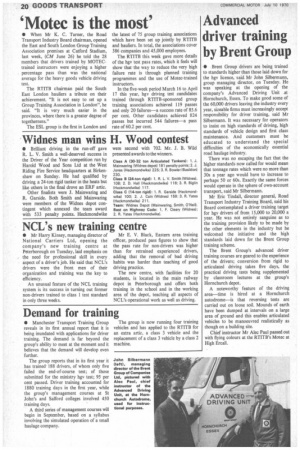 Page 22, 10th July 1970 —
`Motec is the most'
Close
• When Mr K. C. Turner. the Road Transport Industry Board chairman, opened the East and South London Group Training Association premises at Catford Stadium, last week, (CM June 26) he told the 28 members that drivers trained by MOTECtrained instructors were enjoying a higher percentage pass than was the national average for the heavy goods vehicle driving test.
The RTITB chairman paid the South East London hauliers a tribute on their achievement. "It is not easy to set up a Group Training Association in London", he said. "It is very much easier in the provinces, where there is a greater degree of togetherness."
The ESL group is the first in London and the latest of 75 group training associations which have been set up jointly by RTITB and hauliers. In total, the associations cover 386 companies and 45,000 employees.
The RTITB this week gave more details of the hgv test pass rates, which it feels will show that the way to reduce the very high failure rate is through planned training programmes and the use of Motec-trained instructors.
In the five-week period March 16 to April 17 this year. hgv driving test candidates trained through RTITB-sponsored group training associations achieved 119 passes and only 20 failures—a success rate of 85.6 per cent. Other candidates achieved 824 passes but incurred 544 failures—a pass rate of 60.2 per cent.