PO's training college
10th July 1970
Page 21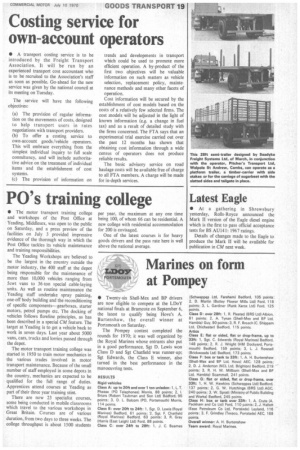 Page 21, 10th July 1970 —
PO's training college
Close
• The motor transport training college and workshops of the Post Office at Yeading, Middlesex, was open to the public on Saturday, and a press preview of the facilities on July 3 provided impressive evidence of the thorough way in which the Post Office tackles its vehicle maintenance and training responsibilities.
The Yeading Workshops are believed to be the largest in the country outside the motor industry, the 400 staff at the depot being responsible for the maintenance of more than 10,000 vehicles ranging from 5cwt vans to 36-ton special cable-laying units. As well as routine maintenance the
• Yeading staff undertake spray painting, one-off body building and the reconditioning of specific components—gearboxes, starter motors, petrol pumps etc. The docking of vehicles follows flowline principles, as has been described in a special CM feature. The target at Yeading is to get a vehicle back to work in seven days. Last year about 5000 vans, cars, trucks and lorries passed through the depot.
The motor transport training college was started in 1950 to train motor mechanics in the various trades involved in motor transport maintenance. Because of the small number of staff employed in some depots in the country, mechanics are expected to be qualified for the full range of duties. Apprentices attend courses at Yeading as part of their three year training stint.
There are now 23 specialist courses, some being conducted in mobile classrooms which travel to the various workshops in Great Britain. Courses are of various duration, from two days to three weeks. The college throughput is about 1500 students per year, the maximum at any one time being 100, of whom 66 can be residential. A new college with residential accommodation for 200 is envisaged.
One of the latest courses is for heavy goods drivers and the pass rate here is well above the national average.