Costing service for own-account operators
10th July 1970
Page 21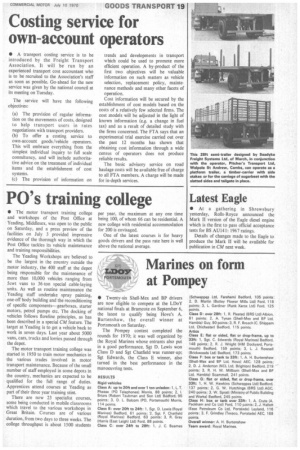 Page 21, 10th July 1970 —
Costing service for own-account operators
Close
• A transport costing service is to be introduced by the Freight Transport Association. It will be run by an experienced transport cost accountant who is to be recruited to the Association's staff as soon as possible. Go-ahead for the new service was given by the national council at its meeting on Tuesday.
The service will have the following objectives: (a) The provision of regular information on the movements of costs, designed to help transport users in rates negotiations with transport providers.
(b) To offer a costing service to own-account goods/vehicle operators. This will embrace everything from the simplest individual inquiry to full scale consultancy, and will include authoritative advice on the treatment of individual items and the establishment of cost systems. • (c) The provision of information on trends and developments in transport which could be used to promote more efficient operation. A by-product of the first two objectives will be valuable information on such matters as vehicle selection, replacement policy, maintenance methods and many other facets of operation.
Cost information will be secured by the establishment of cost models based on the costs of a relatively few selected firms. The cost models will be adjusted in the light of known information (e.g. a change in fuel tax) and as a result of detailed study with the firms concerned. The FTA says that an experimental trial exercise carried out over the past 12 months has shown that obtaining cost information through a wide census of operators does not produce reliable results.
The basic advisory service on road haulage costs will be available free of charge to all FTA members. A charge will be made for in-depth services.