New cost tables in decimal and sterling
10th July 1970
Page 19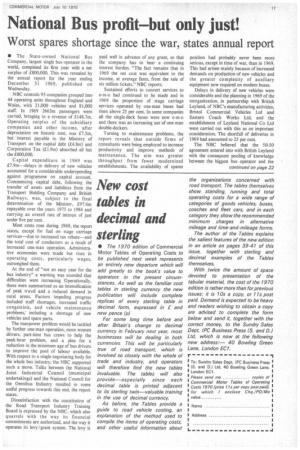 Page 19, 10th July 1970 —
New cost tables in decimal and sterling
Close
• The 1970 edition of Commercial Motor Tables of Operating Costs to be published next week represents an entirely new departure which will add greatly to the book's value to operators in the present circumstances. As well as the familiar cost tables in sterling currency the new publication will include complete replicas of every sterling table in decimal form, expressed in f and new pence (p) For some long time before and after Britain's change to decimal currency in February next year, most businesses will be dealing in both currencies. This will be particularly true of road transport, which is involved so closely with the whole of trade and industry, and operators will therefore find the new tables invaluable. The tables will also provide—especially since each decimal table is printed adjacent to its sterling twin—valuable training in the use of decimal currency.
As before, the Tables provide a guide to road vehicle costing, an explanation of the method used to compile the items of operating costs, and other useful information about the organizations concerned with road transport. The tables themselves show, standing, running and total operating costs for a wide range of categories of goods vehicles, buses, coaches and fleet cars, and in each category they show the recommended minimum charges in alternative mileage and time-and-mileage forms.
The. author of the Tables explains the salient features of the new edition in an article on pages 39-41 of this issue, together with sterling and decimal examples of the Tables themselves.
With .twice the amount of space devoted to presentation of the tabular material, the cost of the 1970 edition is rather more than for previous issues; it is 10s a copy, or 1 is post paid. Demand is expected to be heavy and readers wishing to obtain a copy are advised to complete the form below and send it, together with the correct money, to the Sundry Sales Dept, /PC Business Press (S. and D.) Ltd, which is now at the following new address:— 40 Bowling Green Lane, London Ed.