National Bus profit but only just!
10th July 1970
Page 19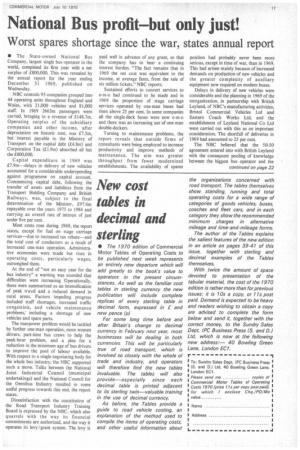 Page 24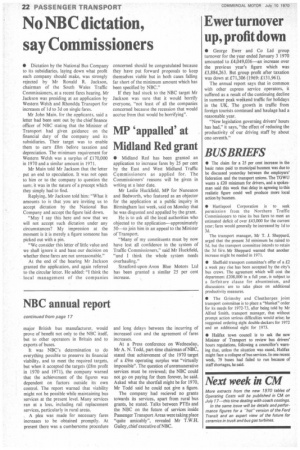 Page 19, 10th July 1970 —
National Bus profit but only just!
Close
Worst spares shortage since the war, states annual report
• The State-owned National Bus Company, largest single bus operator in the world, completed its first year with a net surplus of £800,000. This was revealed by the annual report for the year ending December 31 1969, published on Wednesday.
NBC controls 9.3 companies grouped into 44 operating units throughout England and Wales, with 21,000 vehicles and 81,000 staff. In 1969 2663m passengers were carried, bringing in a revenue of £148.7m. Operating surplus of the subsidiary companies and other income, after depreciation on historic cost, was £7.5m, but interest payable to the Ministry of Transport on the capital debt (£4.8m) and Corporation Tax (£1.9m) absorbed all but the £800,000.
Capital expenditure in 1969 was £7.9m—delays in delivery of new vehicles accounted for a considerable underspending against programme on capital account. Commencing capital debt, following the transfer of assets and liabilities from the Transport Holding Company and British Railways, was, subject to the final determination of the Minister, £97.6m repayable over the years 1975 to 1984 and carrying an overall rate of interest of just under five per cent.
Most costs rose during 1969, the report states, except for fuel on stage carriage services due to increased tax rebate—and the total cost of conductors as a result of increased one-man operation. Administrative economies were made but rises in operating costs, particularly wages, outweighed them.
At the end of "not an easy year for the bus industry" a warning was sounded that difficulties were increasing Operationally, these were summarized as an intensification of peak travel and a reduced demand in rural areas. Factors impeding progress included staff shortages, increased traffic congestion, and vehicle maintenance problems; including a shortage of new vehicles and spare parts.
The manpower problem would be tackled by further one-man operation, more women drivers, part-time bus crews to help the peak-hour problem, and a plea for a reduction in the minimum age of bus drivers to improve the pool of labour available. With respect to a single negotiating body for the whole bus industry, the NBC supported such a move. Talks between the National Joint Industrial Council (municipal undertakings) and the National Council for the Omnibus Industry resulted in some useful progress towards this end, the report states.
Dissatisfaction with the constitution of the Road Transport Industry Training Board is expressed by the NBC, which also quarrels with the way its financial commitments are authorized, and the way it operates its levy/grant system. The levy is paid well in advance of any grant, so that the company has to bear a continuing interest burden. "The fact remains that in 1969 the net cost was equivalent to the income, at average fares, from the sale of six million tickets," NBC reports.
Sustained efforts to convert services to o-m-o had continued to be made and in 1969 the proportion of stage carriage services operated by one-man buses had risen above 25 per cent. In some companies all the single-deck buses were now o-m-o and there was an increasing use of one-man double-deckers.
Turning to maintenance problems, the report reveals that outside firms of consultants were being employed to increase productivity and improve methods of maintenance. The aim was greater throughput from fewer modernized establishments. The availability of spares position had probably never been more serious, except in time of war, than in 1969. This had arisen mainly because of increased demands on production of new vehicles and the greater complexity of auxiliary equipment now required on modern buses.
Delays in delivery of new vehicles were considerable and the planning in 1969 of the reorganization, in partnership with British Leyland, of NBC's manufacturing activities, Bristol Commercial Vehicles Ltd and Eastern Coach Works Ltd, and the establishment of Leyland National Co Ltd were carried out with this as an important consideration. The shortfall of deliveries in 1969 had amounted to 25 per cent The NBC believed that the 50-50 agreement entered into with British Leyland with the consequent pooling of knowledge between the biggest bus operator and the major British bus manufacturer, would prove of benefit not only to the NBC itself, but to other operators in Britain and to exports of buses.
It was NBC's determination to do everything possible to preserve its financial viability, and to meet the required targets, but when it accepted the targets (£8m profit in 1970 and 1971), the company warned that the achievement of the figures was dependent on factors outside its own control The report warned that viability might not be possible while maintaining bus services at the present level. Many services ran at a loss, including rail replacement services, particularly in rural areas.
A plea was made for necessary fares increases to be obtained promptly. At present there was a cumbersome procedure
and long delays between the incurring of increased cost and the agreement of fares increases.
At a Press conference on Wednesday, Mr A. N. Todd, part-time chairman of NBC, stated that achievement of the 1970 target of a £9m operating surplus was "virtually impossible". The question of unremunerative services must be reviewed; the NBC could not go on paying for them forever, he said. Asked what the shortfall might be for 1970, Mr Todd said he could not give a figure.
The company had recieved no grants towards its services, apart from rural bus grants, he stated. Talks between PTEs and the NBC on the future of services inside Passenger Transport Areas were taking place "quite amicably", revealed Mr T.W.H. Gailey, chief executive of NBC.