Why Not Recondition by Deposition
9th October 1942
Page 33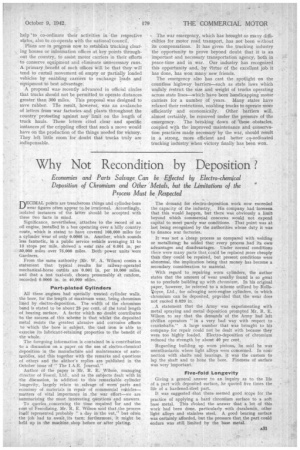 Page 33, 9th October 1942 —
Why Not Recondition by Deposition
Close
Economies and Parts Salvage Can be Effected by Electro-chemical Deposition of Chromium and Oilier Metals, but the Limitations of the Process Must be ,Respected
rIECIMAL points are treacherous things and cylinder-bore 1.1 wear figures often appear to be irrational. Accordingly, isolated instances of the latter should be accepted with these two facts in mind.
Significance, nevertheless, attaches to the record Of an oil engine, installed in a bus operating over a hilly country route, which is stated to have covered 108,000 miles for a cylinder wear of only 0.0005 in. Another, which sounds less fantastic, in a public service vehicle averaging 11 to 13 stops per mile, showed a wear" rate of 0.001 in, per 30,000 miles over 75,000 miles. Both • power units were Gardners.
From the same authority (Mr. W. A. Wilson) comes a statement that typical results for railway-operated mechanical-horse outfits are 0.001 in. per 10,000 miles. and that a test taxi-cab, chosen presumably at random, recorded 0.0005 in. in 40,000 thiles..
Part-plated Cylinders
All these engines had specially treated cylinder walls, the bore, for the length of maximum wear, being chromium lined by electro-deposition. The width of the chromium band is stated to be about 25 per cent, of the total length of bearing surface. A factor which no doubt contributes to the success of this scheme is that whilst the deposited metal resists the greatest abrasive and corrosive effects to which the bore is subject, the cast iron is able to exercise its lubricant-retaining properties to the benefit of the whole.
The foregoing information is contained in a contribution to a discussion on a paper on the use of electro-chemical deposition in the manufacture and maintenance of automobiles, and this together with the remarks and questions of others and the alithor's replies are published in the October issue of "The I.A.E. Journal." _
• Author of the paper is Mr. R. E. Wilson, managing director of Fescol, Ltd., and as the subjects dealt with in the discussion, in addition to this remarkable cylinder longevity, largely relate to salvage of worn' parts and economy of materials in repair of commercial vehicles— matters of vital importance in the war effort—we are summarizing the most interesting questions and answers. To queries concerning the time required lor and the cost of Fescolizing, Mr. R. E. Wilson said that the process itself represented probably " a day in the vat,' 1 but often the job had to await, its turn: furthermore, it might be herd up in the machine, shop before or after plating. •
The demand for electro-deposition work now exceeded the capacity of the industry. His company had 'foreseen that this would happen, but there was obviously a limit beyond which commercial concerns would not expend capital to meet purely war conditions. That point was at last being recognized by the authorities whose duty it was to finance war factories.
It was not a "cheap process as compared with welding or metallizing; he added that every process had its own. advantages and disadvantages. Under normal conditions there were many parts that could be replaced more cheaply than they could he repaired, but present conditions were abnormal, the implication being that money has become a secondary consideration to material.
With regard to repairing worn cylinders, the author states that the amount of wear usually found is so great as to preclude building up with chromium. In his original paper, however, he referred to a Scheme utilized by Rollslloyce, Ltd., for salvaging aero-engine cylinders, in which chromium can be deposited, provided that the wear does not exceed 0.020 in.
. A statement that the Army was experimenting with metal spraying and metal deposition prompted Mr. R. E. Wilson to say that the demands of the Army had left civilian operators " in a very bad way with respect to crankshafts." A large number that was brought to his company for repair could not be dealt with because they were too highly loaded. Electro-deposition of chromium reduced the strength by about 90 per cent.
Regarding building up worn pistons, he said he was unenthusiastic where light alloys were concerned. In connection with shafts and bearings, it was the custom to lap the shaft and to hone the bore. Fineness of surface was very important.
Five-fold Longevity Giving a general answer to an inquiry as to the life of a part with deposited surface, he quoted five times the life of a hardened-steel part.
It was suggested that there, seemed good scope for the
practice of applying a hard chroniium surface to a soft base metal. This evoked the answer that a lot of this work had been done, particularly with duralunnin, other light alloys and stainless steel. A good bearing surface was certainly afforded, but the pressure that the part could endure was still limited by the base metal.