Nottingham's Trolleybus-extension Proposal : Inquiry Closed
9th October 1942
Page 20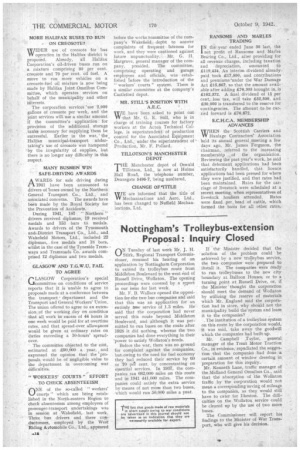 Page 20, 9th October 1942 —
Nottingham's Trolleybus-extension Proposal : Inquiry Closed
Close
ON Tuesday of last week Mr. J. H. Stirk, Regional Transport Commissioner, resumed his hearing of an application by Nottingham Corporation to extend its trolleybus route from Middleton Boulevard to the west end of Russell Drive, Wollaton. The opening proceedings were covered by a report in our issue for last week.
Mr. F. B. Wallace opened the opposition for-the two bus companies and said that this v.-as an application for an entirely new service of .1.3 miles. He said that the corporation had never . served this route beyond Middleton Boulevard, and although it was permitted to run buses on the route after 1928 it did nothing, whereas the two companies had done everything in their 'power to satisfy Wollaton's needs. Befoee the war, there was no ground for complaint against the companies, but.owing to the need for fuel economy they had reduced their service by 60 or 70 p4 cent, by concentrating on essential services. In 1937, the companies ran 682,000 miles on this route and in 1941 441,000 miles. The companies could satisfy the extra service by means of not mope than two buses, which would run 50,000 miles a year. If the Minister decided that the solution of the problem could be achieved by a new trolleybus service, the two companies were prepared to install it. The companies were ready to run trolleybuses to the new city boundary at Balloon Houses, or to a turning point at Russell Drive, or, if the Minister thought the corporation should meet the demand of Wollaton by utilizing the reserve of materials which Mr. England said the corporation had in store, .why should not the municipality build the' system and lease it to the companies? , . The institution of a trolleybus system on this route by the corporation would, it was said, take away the goodwill which the companies had built up.
Mr. Campbell Taylor, general manager of the Trent Motor Traction Co., in evidence, repudiated the suggestion that the companies had done a certain amount of window dressing in preparation for this inquiry.
Mr. Kenneth Lane, traffic manager of the Midland General Omnibus Co., said that the absorption of the Wollaton traffic by the corporation would not mean a corresponding saving of mileage to the companies, as they would still have to cater for Ilkeston. The difficulties on the Wollaton service could be cleared up by the use of two more buses.
The Commissioner will report his findings to the Minister of War Transport, who will give his decision.