Sir
9th October 1942
Page 19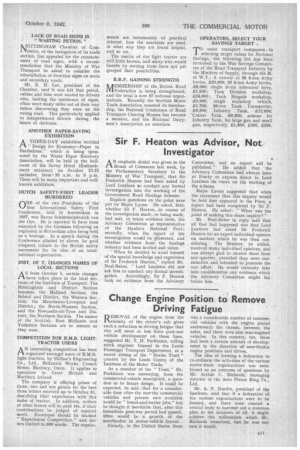 Page 19, 9th October 1942 —
Sir
Close
AN emphatic denial was given in the House of Commons last week, by the Parliamentary Secretary to the Ministry Of War Transport, that Sir Frederick Heaton had been asked by Lord Leathers to conduct any formal investigation into the working of the Government Road Haulage Scheme.
Explicit questions on the point were put by Major Lyons. He asked, first, whether Sir F. Heaton, -in course of the investigation made, or being made, had met, or taken evidence from, the Advisory Committee as representative of the Hauliers National Pool; secondly, when the report of the investigation would be gresented, and whether evidence from the haulage industry had been invited and taken.
" When he decided to avail himself of the special knowledge and experience of Sir Frederick Heaton," replied Mr. Noel-Baker, "Lord Leathers did no-task him to conduct any formal investi gation. Accordingly, Sir F. Heaton took no evidence from the Advisory
Committee, and no report will be published." He added that the Advisory Committee had always been at liberty to express direct to Lord Leathers its views on the working of
the scheme. •
Major Lyons suggested that when the statement that this inquiry would be held first appeared in the Press, a report had been completed by Sir F. Heaton. He asked : "What was the point of making this sham inquiry?"
Mr. Noel-Baker in reply said that all that had happened was that Lord Leathers had asked Sir Frederick Heaton for an expert individual opinion on matters whichhe was then considering. The Minister, he added, received many individual opinions, and was always glad to receive them from any ,,quarter, provided they were constructive and intended to promote the war effort. He would certainly take into consideration any evidence which the Advisory Committee might lay , before him.