Change
9th October 1942
Page 19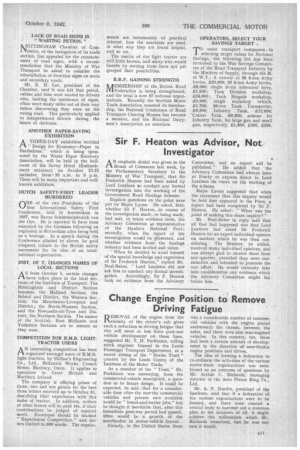 Page 19, 9th October 1942 —
Change
Close
Engine Position to' Remove. Driving Fatigue D EMOVAL of the engine from the 1N.vicinity of the driver's cab gives such a reduction in driving fatigue that this will more or less force post-war vehicle development on these lines, suggested Mr. T. H. Parkinson, rolling stock engineer (buses) in the Leeds Passenger Transport Department, at a recent sitting of the " Brains Trust" created by the Leeds Centre of the Institute of the Motor Trade.
As a -member of the " Trust," Mr. Parkinson was answering, from the commercial-vehicle standpoint, a question as to future design. It could be expected, he said,. that for a considerable time after the war the commercial vehicles and private cars available would he " bread-and-butter jobs," but he thought it inevitable that, after this 'immediate post-war period had passed, there would be a growth of the unorthodox in motor-vehicle layout.
Already, in the United States there was a considerable number of commercial vehicles with the engine placed underneath the chassis, between the axles, and there were also rear-engined vehicles. In this country, too, there had been a certain amount of development in the direction of unorthodox engine positions and drives.
The idea of forming a federation to co-ordinate the activities of the various motor-trade organizations was mentioned as an outcome of questions by Mr, Arthur C. Richards, managing director of the Aero Piston Ring Co., Ltd.
-Mr. A. F. Durdin, president of the Institute, said that if a federation of the various organizations were to be formed, and there were created a central body to hammer out a common plan inthe interests of all, it might achieve the millennium which Mr. Richards visualized, but be was nQt sure it would.