Passini Comments
9th October 1942
Page 16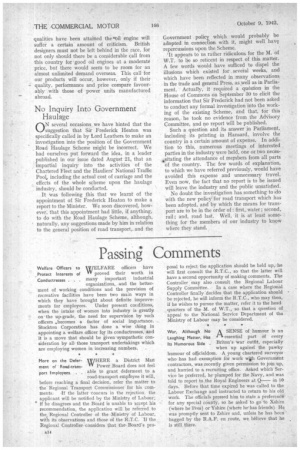 Page 17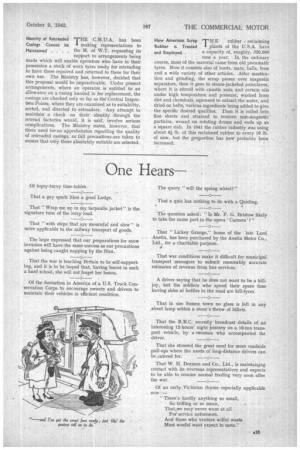 Page 16, 9th October 1942 —
Passini Comments
Close
WPLFARE officers have roved their worth in many important industrial organizations, and the betterment of working conditions and the provision of recreative facilities have been two main ways in which they have brought about definite improve
ments for employees. Under present conditions, when the intake of women into industry is greatly on the up-grade, the need for supervision by such officers .,becomes a factor of social importance. Stockton Corporation has done a wise thing in appointing a welfare officer for its conductresses, and it is a move that should be given sympathetic consideration by all those transport undertakings which are employing women in increasing numbers. . Welfare Officers to Protect Interests of Conductresses . . .
More on the Deferment of Road-transport Employees. . WHERE a District Man 11' Power Board does not feel able to grant deferment to a road-transport ernproyee it will,
before reaching a final decision, refer the matter to the Regional Transport Commissioner for his com ments: -If the latter concurs in the rejection, the applicant will be notified by the Ministry of Labour; • if he disagrees and the Board is unable to accept his recommendation, the application will be referred. to the Regional Controller of the Ministry of Labour, with its observations and those of the R.T.C. If the Regional Controller considers that the Board's pro
posal to reject the application should be held up, he will first consult the R.T.C., so that the latter will have a second opportunity of making comments. The Controller. may also consult the Regional Labour Supply Committee. In a case where the Regional Controller finally 'decides that the application should be rejected, he will inform the R.T.C., who may then, if he wishes to pursue the matter, refer it to the headquarters of the M. of W.T., so that a question of appeal to the National Service Department of the Ministry of Labour may be considered.
War, Although No A SENSE of humour is an Laughing Matter. Has 1Th essential part of every Its Humorous Side
Briton's war outfit, especially
.
when up against the pawky humour of officialdom. A young chartered surveyor who has had exemption for work with Government contractors, was recently given permission to join up, and hurried to a recruiting office. Asked which Service he preferred, he-plumped for the Navy, and was told to report to the Royal Engineers at Q— in 10 days. Before that time expired he was called to the Labour Exchange and instructed to return to his old work. The officials pressed him to state a preference for any special cOunty, so he asked to go to Xshire (where he lives) or Yshire (Where he-has friends) He was promptly sent to Zshire and, unless he has been ' bagged by the R.A.F. en route, we believe that he is still there. Identity of Retreaded THE C..k.U.A. has been Casings Cannot be I making representations to Maintained . . . the M. of W.T. requesting its
support to arrangements being made which will enable operators who have in their possession a stock of worn tyres ready for retreading to have these repaired and returned to them for their own use. The Ministry has, however, decided that this proposal would be impracticable. Under present arrangements, where an operator is entitled to an allowance on a casing handed in for replacement.the casings are checked only so far as the Central Inspection Points, where they are examined as to suitability, sorted, and directed to retreaders. -Any attempt to maintain a check on their identity through the retread factories would, it is said, involve serious complications. The Ministry states, however, that there need be no apprehension regarding the quality of retreaded casings, as full precautions-are taken to ensure that at only those absolutely suitable are selected.
How American Scrap
Rubber is Treated THE rubber . reclaiming
plants of the U.S.A. have a capacity of, roughly, 320,000
and Employed . . tons a year. In the ordinary course, most of the material came from old pneumatic tyres. Now it consists also of boots, mats, balls, hose and a wide variety of other articles. After mastication and grinding, the scrap passes over magnetic separators, then it goes to steam-jacketed autoclaves, where it is stirred with caustic soda and certain oils under high temperature and pressure, washed from dirt and chemicals, squeezed to extract the water, and dried on belts, 'various ingredients being added to give the specific desired qualities. Then it is rolled into fine sheets and strained to remove non-magnetic particles, wound on rotating drums and ends up as a square slab. In 1941 the rubber industry was using about 41. lb. of this reclaimed rubber to every 10 lb. of new, but the proportion has now probably been increased.