DEAR
9th May 1987
Page 51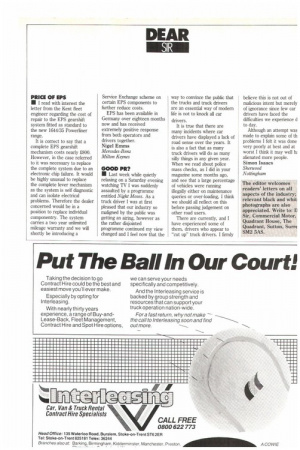 Page 51, 9th May 1987 —
DEAR
Close
SIR
PRICE OF EPS • I read with interest the letter from the Kent fleet engineer regarding the cost of repair to the EPS gearshift system fitted as standard to the new 1644/35 Powerliner range.
It is correct to say that a complete EPS gearshift mechanism costs nearly £800. However, in the case referred to it was necessary to replace the complete system due to an electronic chip failure. It would be highly unusual to replace the complete lever mechanism as the system is self diagnostic and can isolate electrical problems. Therefore the dealer concerned would be in a position to replace individual componentry. The system carries a two year unlimited mileage warranty and we will shortly be introducing a Service Exchange scheme on certain EPS components to further reduce costs.
EPS has been available in Germany over eighteen months now and has received extremely positive response from both operators and drivers together.
Nigel Emms Mercedes-Benz Milton Keynes
GOOD PR?
• Last week while quietly relaxing on a Saturday evening watching TV I was suddenly assaulted by a programme entitled Night Moves. As a truck driver I was at first pleased that our industry so maligned by the public was getting an airing, however as the rather disjointed programme continued my view changed and I feel now that the way to convince the public that the trucks and truck drivers are an essential way of modern life is not to knock all car drivers.
It is true that there are many incidents where car drivers have displayed a lack of road sense over the years. It is also a fact that as many truck drivers will do as many silly things in any given year. When we read about police mass checks, as I did in your magazine some months ago, and see that a large percentage of vehicles were running illegally either on maintenance queries or over-loading, I think we should all reflect on this before passing judgement on other road users.
There are currently, and I have experienced some of them, drivers who appear to "cut up" truck drivers. I firmly believe this is not out of malicious intent but merely of ignorance since few car drivers have faced the difficulties we experience d to day.
Although an attempt was made to explain some of th problems I felt it was done very poorly at best and at worst I think it may well lu alienated more people. Simon Isaacs Sherwood Nottingham