• COMMENT ALL THAT GLISTERS...
9th May 1987
Page 5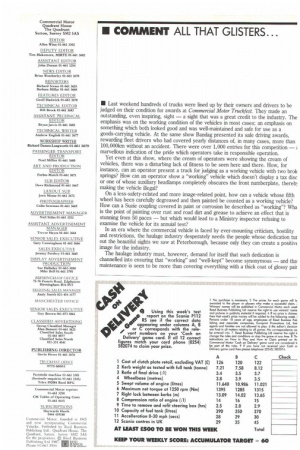 Page 5, 9th May 1987 —
• COMMENT ALL THAT GLISTERS...
Close
• Last weekend hundreds of trucks were lined up by their owners and drivers to be judged on their condition for awards at Commercial Motor Truckfest. They made an outstanding, even inspiring, sight — a sight that was a great credit to the industry. The emphasis was on the working condition of the vehicles in most cases; an emphasis on something which both looked good and was well-maintained and safe for use as a goods-carrying vehicle. At the same show Bandag presented its safe driving awards, rewarding fleet drivers who had covered yearly distances of, in many cases, more than 100,000km without an accident. There were over 1,000 entries for this competition — ; marvellous indication of the pride which operators take in responsible operation.
Yet even at this show, where the cream of operators were showing the cream of vehicles, there was a disturbing lack of fitness to be seen here and there. How, for instance, can an operator present a truck for judging as a working vehicle with two brok springs? How can an operator show a "working" vehicle which doesn't display a tax disc or one of whose auxiliary headlamps completely obscures the front numberplate, there!): making the vehicle illegal?
On a less-safety-related and more image-related point, how can a vehicle whose fifth wheel has been carefully degreased and then painted be counted as a working vehicle? How can a Suzie coupling covered in paint or corrosion be described as "working"? Wha is the point of painting over rust and road dirt and grease to achieve an effect that is stunning from 50 paces — but which would lead to a Ministry inspector refusing to examine the vehicle for its annuial test?
In an era where the commercial vehicle is faced by ever-mounting criticism, hostility and restrictions, the haulage industry desperately needs the people whose dedication tux out the beautiful sights we saw at Peterborough, because only they can create a positivE image for the industry.
The haulage industry must, however, demand for itself that such dedication is channelled into ensuring that "working" and "well-kept" become synonymous — and tha maintenance is seen to be more than covering everything with a thick coat of glossy pair