HAULING AT HARROGATE
9th May 1987
Page 33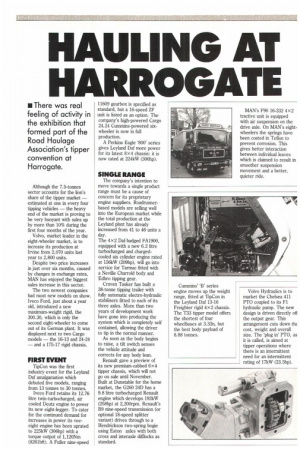 Page 33, 9th May 1987 —
HAULING AT HARROGATE
Close
Although the 7.5-tonnes sector accounts for the lion's share of the tipper market — estimated at one in every four tipping vehicles — the heavy end of the market is proving to be very buoyant with sales up by more than 10% during the first four months of the year.
Volvo, market leader in the eight-wheeler market, is to increase its production at Irvine from 2,070 units last year to 2,800 units.
Despite two price increases in just over six months, caused by changes in exchange rates. MAN has enjoyed the biggest sales increase in this sector.
The two newest companies had most new models on show. Iveco Ford, just about a year old, introduced a new maximum-weight rigid, the 300.30, which is only the second eight-wheeler to come out of its German plant. It was displayed next to two Cargo models — the 16-13 and 24-24 — and a 175-17 rigid chassis.
FIRST EVENT
TipCon was the first industry event for the Leyland Daf amalgamation which debuted five models, ranging from 13 tonnes to 30 tonnes.
Iveco Ford retains its 12.76 litre twin-turbocharged, air cooled Deutz engine to power its new eight-legger. To cater for the continued demand for increases in power its veeeight engine has been uprated to 225kW (306hp) with a torque output of 1,120Nm (8261bft). A Fuller nine-speed 11609 gearbox is specified as standard, but a 16-speed ZF unit is listed as an option. The company's high-powered Cargo 24.24 Cummins-powered sixwheeler is now in full production.
A Perkins Eagle '800' series gives Leyland Daf more power for its latest 8 x 4 chassis: it is now rated at 224kW (300hp).
SINGLE RANGE
The company's intention to move towards a single product range must be a cause of concern for its proprietary engine suppliers. Roadrunnerbased models are selling well into the European market while the total production at the Leyland plant has already increased from 41 to 46 units a day.
The 4 x2 Daf-badged FA1900, equipped with a new 6.2 litre turbocharged and chargedcooled six cylinder engine rated at 156kW (209hp), will go into service for Tarmac fitted with a Neville Charrold body and Edbro tipping gear.
Craven Tasker has built a 38-tonne tipping trailer with fully automatic electro-hydraulic stabilisers fitted to each of its three axles. More than two years of development work have gone into producing the system which is completely self contained, allowing the driver to tip in the normal manner.
As soon as the body begins to raise, a tilt switch senses the vehicle attitude and corrects for any body lean.
Renault gave a preview of its new premium-cabbed 6x4 tipper chassis, which will not go on sale until November. Built at Dunstable for the home market, the G260 24D has a 9.8 litre turbocharged Renault engine which develops 192kW (258hp) at 2,200rpm. Renault's B9 nine-speed transmission (or optional 18-speed splitter variant) drives through to a Hendrickson two-spring bogie using Eaton axles with both cross and interaide diffiocks as standard.