ter: 'reckless'
9th May 1987
Page 21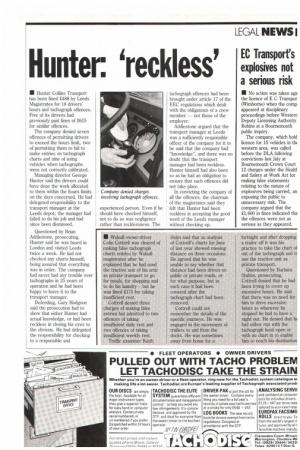 Page 21, 9th May 1987 —
ter: 'reckless'
Close
• Hunter Collins Transport has been fined 2488 by Leeds Magistrates for 18 drivers' hours and tachograph offences. Five of its drivers had previously paid fines of 2615 for similar offences.
The company denied seven offences of permitting drivers to exceed the hours limit, two of permitting them to fail to make entries on tachograph charts and nine of using vehicles when tachographs were not correctly calibrated.
Managing director George Hunter said the drivers could have done the work allocated to them within the hours limits on the days concerned. He had delegated responsibility to the transport manager at the Leeds depot; the manager had failed to do his job and had since been dismissed.
Questioned by Brian Addlestone, prosecuting, Hunter said he was based in London and visited Leeds twice a week. He had not checked any charts himself, being assured that everything was in order. The company had never had any trouble over tachographs in 25 years of operation and he had been happy to leave it to the transport manager.
Defending, Gary Hodgson said the prosecution had to show that either Hunter had actual knowledge, or had been reckless in closing his eyes to the obvious. He had delegated the responsibility for checking to a responsible and experienced person. Even if he should have checked himself, not to do so was negligence rather than recklessness. The tachograph offences had been brought under article 17 of the EEC regulations which dealt with the obligations of a crew member — not those of the employer.
Addlestone argued that the transport manager at Leeds was a sufficiently responsible officer of the company for it to be said that the company had -knowledge", and there was no doubt that the transport manager had been reckless. Hunter himself had also been so as he had an obligation to ensure that such offences did not take place.
In convicting the company of all the offences, the chairman of the magistrates said they felt that Hunter had been reckless in accepting the good word of the Leeds manager without checking up.