Austin Builds an Electric Tractor
9th May 1952
Page 58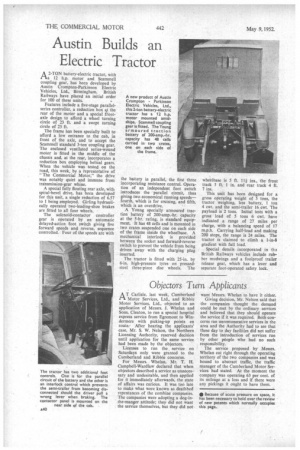 Page 58, 9th May 1952 —
Austin Builds an Electric Tractor
Close
Keywords :
Land Transport
,
Trucks
,
Transport
,
Mechanical Engineering
,
Articulated Vehicles
,
Semi-trailer Truck
,
Scammell
,
Tractor
,
Semi-trailer
,
Transmission
,
Trailer
,
Overdrive
A2-TON battery-electric tractor, with a 12 h.p. motor and Scammell coupling gear, has been developed by Austin Crompton-Parkinson Electric Vehicles, Ltd., Birmingham. British Railways have placed an initial order for 100 of these units.
Features include a five-stage parallelseries controller, a reduction box at the rear of the motor and a special frontaxle design to afford a wheel turning circle of 23 ft. and a swept turning circle of 25 ft.
The frame has been specially built to afford a low entrance to the cab, in front of the axle, and to accept the Scammell standard 3-ton coupling gear. The enclosed ventilated series-wound motor is fitted in the middle of the chassis and, at the rear, incorporates a reduction box employing helical gears. When the vehicle was tested on the road, this week, by a representative of " The Commercial Motor," the drive was notably quiet and immune from transmission-gear whine.
A special fully floating rear axle, with spiral-bevel drive, has been developed for this unit, a single reduction of 6.57 to 1 being employed. Girling hydraulically operated two-leading-shoe brakes are fitted to all four wheels.
The solenoid-contactor controller gear is operated by an automatic delayed-action foot switch giving five forward speeds and reverse, sequence controlled. Four of the speeds are with the battery in parallel, the first three incorporating resistance control. Operation of an independent foot switch introduces the parallel circuit, thus giving two economical running speeds— fourth, which is for cruising, and fifth, which is an overdrive.
A Young specially armoured traction battery of 200-amp.-hr. capacity at the 5-hr. rating, is standard equipment. It has 48 cells and is mounted in two crates suspended one on each side of the frame inside the wheelbase. A mechanical interlock is provided between the socket and forward-reverse switch to prevent the vehicle from being driven away with the charging plug inserted.
The tractor is fitted with 25-in. by 6-in, high-pressure tyres on pressedsteel three-piece disc wheels. The
wheelbase is 5 ft. ll ins., the front track 5 ft. 1 in. and rear track 4 ft. 7 ins.
This unit has been designed for a gross operating weight of 5 tons, the tractor weighing, less battery, 1 ton 4 cwt. and the semi-trailer 16 cwt. The payload is 2 tons. Initial tests with a gross load of 5 tons 6 cwt. have indicated a range of 27 miles per charge, with a balancing speed of 17 m.p.h. Carrying half-load and making 200 stops, the range is 24 miles. The tractor is claimed to climb a 1-in-8 gradient with full load.
Special details incorporated in ilia British Railways vehicles include rubber mudwings and a foolproof trailer release gear, which has a lever and separate foot-operated safety lock.