The N.A.F.W.R. is Watching C-licensees
9th May 1952
Page 30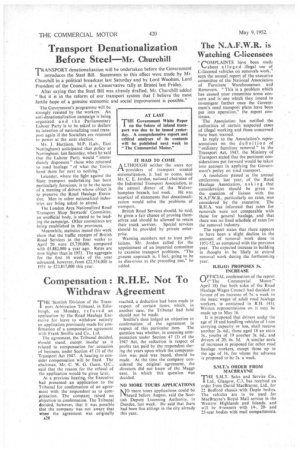 Page 30, 9th May 1952 —
The N.A.F.W.R. is Watching C-licensees
Close
" COMPLAINTS have been made '1,---.about alleged illegal use of C-licensed vehicles on removals work." says the annual report of the executive committee of the National Association of Furniture Warehousemen and Removers. "This is a problem which has caused your committee some concern and is one which they intend to investigate further once the Government's road transport plans have been put into Operation," the report continues. •
The Association has notified the authorities of certain suspected cases of illegal working and those concerned have been warned.
In reply to the Association's representations on the definition of "ordinary furniture removal" in the Transport Act, 1947, the Ministry of Transport stated that the pertinent considerations put forward would be taken into account in applying the Government's policy on road .transport.
A resolution passed at the annual conference, last year, of the Road, Haulage Association, asking that consideration should be given to the question of liaison with the N.A.F.W.R., particularly on rates, was considered by the executive. The R.H.A. was informed that rates for removals were not comparable with those for general haulage, • and that there was no fixed schedule of rates for the removal industry.
The report states that there appears to have been a slight decline in the amount of removal work done ia 1951-52, as compared with the previous year. The expected increase in building is thought to be likely to extend removal work during the forthcoming s year.
R.H.(41) PROPOSES 5s. INCREASE nFFICIAL confirmation of the report (" The Commercial Motor," April 18) that both sides of the Road Haulage Wages Council had decided in favour of an increase of 5s. a week in the basic wages of adult road haulage workers, is contained in R.H. (41). Written representations on it may be made up to May 16.
It is proposed that drivers uncle/ the age of 18 and handling vehicles of 1-ton carrying capacity or less, shall receive another 2s. 6d., those aged 18 an extra 3s., youths of 19 another 3s. 6d., and drivers of 20, 4s. 3d. A similar scale of increases is proposed for other road haulage workers, except those up to the age of 16, for whom the advance is proposed to be 2s. a week.
S.M.T.'s ORDER FROM MACRRAYNE
THE S.M.T. Sales and Service Co., Ltd., Glasgow, C.3, has received an order from David MacBrayne, Ltd., for 22 Bedford chassis with Duple bodies. The vehicles are to be used for MacBrayne's Royal Mail service in the Western Highlands and Islands, and will be 4-tonners with 14-, 20and 25-seat bodies with mail compartments.